(ROSENBERG) – Texas State Technical College Chancellor and CEO Michael Reeser announced today that beginning on Nov. 1, 2016, the college will offer money-back guarantees to students who complete degrees in high-paying, high-demand technologies but fail to find jobs within six months of graduation.
The announcement came as Reeser spoke at the ribbon-cutting ceremony at TSTC's newest campus in Fort Bend County.
TSTC students may apply to participate in the money-back program, which will be retroactive to fall 2016, during their first semester at school. Graduates earning associate degrees in Welding, Instrumentation, Electrical Lineworker, Diesel Equipment, and Electrical Power and Controls programs may be eligible for a refund if they fail to find a job in six months.
"This bold new initiative is certainly unconventional," said TSTC Executive Vice Chancellor and Chief Operations Officer Elton E. Stuckly Jr. "The notion of a money-back guarantee may be new in higher education, but we have an outstanding track record of 50 years in successfully placing skilled graduates in great jobs and with major employers in Texas who know the quality of our graduates. We've gotten so confident in our ability to serve the state as its technical provider that this guarantee is putting our money where our mouth is."
"Our unique mandate is to be Texas' technical provider," said TSTC Vice Chancellor and Chief Marketing Officer Jeff Kilgore. "We're doing something to help reverse the student debt crisis that is crippling many in our country. The biggest impact is going to be on the success of our students. We're doing this for our students and for the workforce of the state of Texas."
"There are many benefits to this, but the biggest impact it's going to have is on the success of our students," Reeser said. "Families in Texas can send their kids to school confident in the fact that they aren't going to be burdened by extraordinary debt or lost interest payments if they fail to get a job."
The money-back guarantee is a part of TSTC's Get-a-Job program, a comprehensive extracurricular development program in which students learn the skills they'll need to locate and land a great-paying job.
"Colleges focus on giving students the skills they need to be successful in their job," said Reeser. "The Get-a-Job program teaches students the skills they need to land that job. At a time when some colleges are going out of business because their practices are not leading to gainful employment, TSTC is putting its guarantee behind the job-placement promise that students receive when they sign up for these high-demand programs."
"An increasing trend in Texas families is to seek a higher-ed option that offers the best value for the tuition and time invested," said Kilgore. "TSTC is putting its guarantee in place to demonstrate that if you don't get a job, you'll get your money back. This is a contribution to addressing the growing disparity between increasing student debt and decreasing employment rates among college graduates."
"We think the fact that TSTC offers a money-back guarantee in these high-demand programs will make it easier for families to make their college selection," said Kilgore. "Families are increasingly concerned about what they get for their college tuition dollar. If the employment goals of the student are not achieved, they'll be getting those tuition dollars back."
Additional information about the program will be available on Nov. 1 at tstc.edu.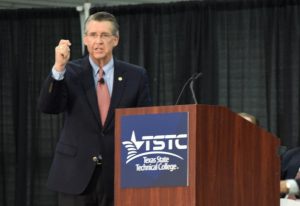 Written by Daniel Perry on October 7, 2016