(HARLINGEN) – Losing a loved one is an excruciating time for many families, but for Larissa Ramirez, losing her beloved aunt to cancer helped her make the important decision of returning to college.
"My aunt was always talking about the value of an education and she was an educator herself, so I know she'd be proud of me for taking this step," said the 20-year-old San Benito native.  "I was really close to her.  It's been a little over a year since she's been gone, and it's motivating me to work really hard," she said.
Ramirez is no stranger to hard work, she has had to work multiple service industry jobs to support herself.
She previously attended another educational institution and earned a medical assistant certificate, but found herself in t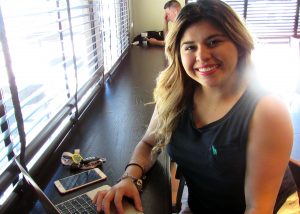 he wrong profession.  The decision to start college wasn't difficult for Ramirez to make, and she looks forward to what being a student will bring for her.
"I've learned to manage my time really well because of my work schedule, and I really think that's going to help me get through school.  Staying up late at night to study will be a piece of cake."
She is now pursuing her Academic Core, basics, so she can go on to a 4-year university and pursue a bachelor's degree.
"I'm excited to be back in school, meet new people and branch out.  Two of my best friends attended TSTC and they spoke really highly of it.  They mentioned that the instructors were very hands-on with their teaching and that's one of the best ways that I learn."
Despite the fact that Ramirez has a great support system between friends and family, she also mentions that she is very comfortable standing on her own two feet.
"I don't take anything for granted and I know that success comes from pushing yourself to work hard for what you want."
When asked what she would tell a young adult contemplating whether or not they should go back to college, she calls on the same wisdom that several mentors have told her.
"I was always told to push yourself.  Not just from my mom, aunt and family, but also from teachers and coworkers.  If you want to make something better for yourself, absolutely go back to college.  If I can do it, they can do it."
For more information on TSTC's Academic Core, visit www.tstc.edu to learn more.
TSTC's Academic Core is transferable to any 4-year university in the state of Texas.
Written by Amanda Sotelo Sotelo on September 28, 2016