(WACO) – Hours of grueling work in the biting cold while serving in the U.S. Army trained Luis Trevino to deal well with extremes.
"I had never been in snow like that," said Trevino, 34, of San Benito. "We trained in the mountains and the weather. Afghanistan got really cold. The military taught me about being organized, being disciplined, and with Alaska, about safety. You had to have gloves on or you could get frostbite. You had to use safety precautions."
Trevino graduated in August from Texas State Technical College in Harlingen with an Associate of Applied Science degree in Welding Technology. A week late, he began the Fall Semester at Texas State Technical College in Waco, pursuing an Associate of Applied Science degree in Occupational Safety Compliance Technology.
"I could not wait to come back and learn more," he said. "I think it's amazing and I love my instructors."
TSTC in Waco's technical program specializes in teaching students about environmental and construction regulations, jobsite inspections, training and standard operating procedures.
"Our graduates on average enter the workforce making $55,000, depending on the location of the job and previous experience," said Martin Knudsen, an associate professor in the Environmental Health, Safety and Radiation Protection Technology Department at TSTC in Waco. "Typical job titles include safety and health manager, regulatory compliance coordinator and corporate safety officer."
Trevino said he has enjoyed learning about what Waco has to offer, including the hiking trails at Cameron Park and opportunities to run on hills. He looks forward to exploring the city's museums and restaurants.
"When you get out of the Rio Grande Valley, you start thinking bigger, you open your mind, you are challenging yourself," he said.
Trevino grew up in San Benito.
"We would climb on trees in the backyard and play football with the kids in the neighborhood," he said. "By the time the outdoor lights came on, you had to be inside."
He graduated in 2001 from San Benito High School, where he was on the track and wrestling teams.
He waited a couple of years before enlisting in the U.S. Army with postings at Fort Sam Houston in San Antonio, Fort Bragg in North Carolina and Fort Wainwright in Alaska. He was in the Army for nine years, leaving as a sergeant. His service included tours of duty in Afghanistan and Iraq.
After he left the military, he knew he needed a career.
"I always wanted to be a welder and wanted to do it on the side," Trevino said. "It is hard and rough work, and when I was in the military I was in infantry and did a lot of hard work. Welding is a labor of love, but it's not what I want to do. Safety naturally came to me as something I found interesting, especially in welding with safety using gases, the hoses and being safe."
Kenny Moore, chair of the Welding Technology Department at TSTC in Harlingen, admires Trevino's perseverance.
"He got out of sequence on some of his classes from the beginning but pushed through," Moore said. "He never gave up and always had a great attitude. He was always very respectful and patient and was always very eager to learn new welding and fabrication techniques. He seems to thoroughly enjoy this industry, and because of that he will definitely succeed."
Trevino was active in TSTC in Harlingen's Veteran Student Alliance Club, a group he hopes to be part of in Waco.
He wants one day to own property north of Houston and become a federal occupational safety and health administration inspector.
"You get to look out for the welfare of other people and take responsibility of other people," Trevino said.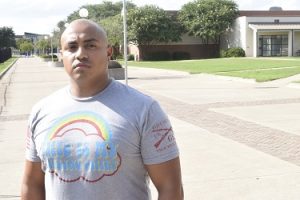 Written by Daniel Perry on September 13, 2016