(WACO) – Village Oaks Apartments at Texas State Technical College in Waco could unofficially be renamed Fredericksburg North.
At least 10 students from Fredericksburg High School are enrolled this year at TSTC and live at the on-campus student apartments. Several of them are pursuing the same major and tackling the transition from high school to college together with humor and discovery.
"I thought it would be hard meeting new people, but it's not," said William O'Connell, 18, a first-semester Computer Maintenance and Technology major.
Some of the students learned about the technical college from Fredericksburg High School automotive teacher and 2000 TSTC in Waco graduate Blake Schmidt.
"I spent 11 years as a technician working in dealerships on GM products," Schmidt said. "This is now my third year teaching and I love it. I get the opportunity to teach at the same high school I graduated from. It is so important to inspire students and let them know what is available to them after high school. I thought the Automotive Technology program was great when I attended, and the instructors pushed and encouraged me to be the best I could be."
Jacob Coolidge, 19, a first-semester Diesel Equipment Technology – Heavy Truck Specialization major, credits Schmidt with motivating him to enroll at TSTC. He said Schmidt emphasized during classes what students would expect at the technical college.
"I didn't want to go to college for the longest time, but I thought of being an electrician or working in the oil fields," Coolidge said. "I thought I could go to college and become a diesel equipment repairman."
Coolidge already had a tie to the Waco campus before he moved into his on-campus apartment in mid-August: his grandparents lived at what was then Connally Air Force Base and his family has traveled to the Waco area for years to visit relatives and go fishing.
Two years ago, Schmidt and Logan Minshew, a counselor at Fredericksburg High School, began taking 40 juniors and seniors each spring to visit TSTC in Waco.
"I believe letting the students see firsthand the quality education they can receive helps a lot," Minshew said. "They also see the potential for increased earning power. With Blake, I think they also see that they can stay part of the awesome Fredericksburg community when they complete their training. We really enjoy our annual trip to TSTC and hope to continue to grow the partnership that is helping train tomorrow's leaders."
So far, the students have been adjusting to long breaks between classes and realizing the importance of balancing work and studying without parental supervision. O'Connell has taught Isaiah Rivera, 18, a first-semester Automotive Technology major, how to do his laundry.
"We are just now getting to the first bills," said Rivera. "Three of us work at Whataburger part time. We are trying to support ourselves while attending school."
Rivera said he has had to adjust to doing classwork online.
"I like it for the most part, but I don't like thinking if instructors received the homework or not," Rivera said. "With technology there is a chance it could not be submitted."
Many of the Fredericksburg students tend to migrate to classmate Dillon Nielsen's apartment at Village Oaks because of cable availability, Coolidge said. Schmidt said Nielsen, 18, is attending TSTC on a scholarship from Toyota of Boerne.
A lot of the students have longtime ties to one another. Coolidge and O'Connell estimated they have known each other since elementary school, while Tyler McWilliams, 18, an Automotive Technology major, grew up across the street from Coolidge.
Some of the students said they missed cruising Fredericksburg's Main Street, off-roading on dirt roads and socializing in the parking lots of popular eateries and stores.
Rivera said their joint goal is to visit Fredericksburg once a month.
"We have family and some of us have relationships," he said.
Some of the students are already making plans for life after graduation.
Randall Friedrich, 18, is an Automotive Technology major with a simple goal: to make money.
McWilliams said he wants to return to Fredericksburg and work with his relatives.
Coolidge wants to move to Florida and do diesel work.
"I do like to travel and go to different places," he said.
For more information on TSTC, log on to tstc.edu.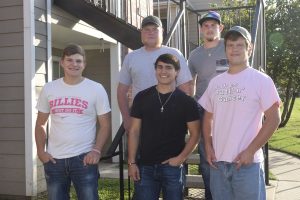 Written by Daniel Perry on September 12, 2016