(WACO) – Texas State Technical College in Waco and the Texas Workforce Commission are partnering to provide workforce development to two local companies.
Jobe's on Franklin Avenue and Hobbs Bonded Fibers on South Commerce Drive, both in Waco, are utilizing TSTC's Workforce Training and Continuing Education programs to update workers' skills.
"I know the quality of education at TSTC," said Wayne Winekauf, Jobe's director of plant operations. "I'm very impressed. It's a gem that is hidden."
Jobe's employees take master rolls of outdoor commercial fabric, such as burlap and sun screen, and cut them to be consumer-ready in various lengths. The company has 30 workers, but increases to 100 employees during their busy period from January to May.
The Jobe's workers recently took part in operation care classes through a state Skills Development Fund grant valued at more than $60,000. Workers learned about troubleshooting, upkeep and quality control on their shrink wrap, winding and other machines. A representative from the U.S. Occupational Safety and Health Administration also visited to talk about workplace and machine safety.
"TSTC is focused on the manufacturing side," said Winekauf. "The safety was key to having someone come in and review the safety recommendations. Someone from the outside is respected more."
Several of Jobe's workers said they benefited from the training.
Arturo Vicinais, a night lead operator who runs machines and works on production floor compliance, has been at the company for 10 years. He appreciated the training in the importance of communication, inspection and audit forms.
"You can take more pride in your work and everything will be more organized," he said.
Barron Parks, a machine operator, has worked at Jobe's the last year and a half.
"The safety class we had was very much needed," Parks said. "There are a lot of dangerous machines here if you don't know the safety procedures. Everyone should be held more responsible."
Thirty-eight workers from Hobbs Bonded Fibers began taking Thursday and Friday classes in mid-August lasting for six weeks so they can learn to weld using structured steel. The training is also under a state Skills Development Fund grant worth at least $60,000.
"These guys have never welded before," said Shawn Grisham, a welding trainer in Workforce Training and Continuing Education at TSTC in Waco. "They are making very good welds."
For more information on Workforce Training and Continuing Education at TSTC, call 254-867-2053 or log on to tstc.edu.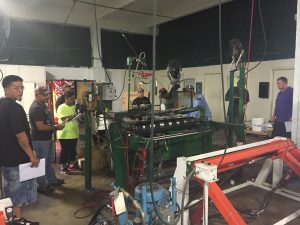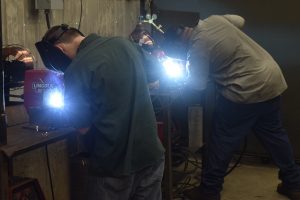 Written by Daniel Perry on September 7, 2016