(WACO) – Juan Buitron will have good thoughts in his mind as he walks across the stage at Texas State Technical College's Summer 2016 Commencement on Friday.
Buitron, 21, of Mount Pleasant said he will miss playing pool and racquetball at TSTC's Murray Watson Jr. Student Recreation Center. He will also think about playing on his guitar and jamming with friends.
Buitron is among more than 500 graduates from TSTC's Waco, Fort Bend County, North Texas and Williamson County campuses who will graduate on Friday in Waco. He will receive an Associate of Applied Science degree in Diesel Equipment Technology – Off-Highway Specialization.
Buitron represents the first generation in his family to graduate from college. He has three siblings – one who has graduated from college and two in the military.
"Whenever we get together as a family, we talk about our parents and appreciate what they do – working hard and wanting us to have a better future," he said. "Whatever you work for will make you successful."
Buitron said he learned along the way about taking care of oneself.
"Have yourself a small, basic tool kit," he said. "Get ready to study. Sleep early and wake up early and get to class. Eat right and healthy. Have that ambition to learn something."
His favorite class was Power Train II, which teaches students how to inspect and repair drive shifts and clutches. He credited Diesel Equipment Technology program faculty members Julian Alfred, John Goebel and Kent Kahler with graciously giving their knowledge to him.
Kahler said Buitron asked good questions and was punctual – qualities that make it a joy to teach students like him and see the opportunities they have in their career fields.
"It makes your job more fulfilling when you have students like him; they just need some guidance," Kahler said.
Buitron is currently job searching in the Dallas-Fort Worth area.
He was born in Stephenville and moved with his family to Mount Pleasant when he was 4.
"There are a lot of country roads," he said. "It's fun living there. You can go mud riding, hunting, you name it."
When he was young, he would watch his father work on trucks. During these times, Buitron learned about screwdrivers, hacksaws and pliers. He started assembling his first tool box when he was 15.
Buitron is a graduate of Mount Pleasant High School, where he was a kicker and outside linebacker on the football team.
He first heard about TSTC from one of his sisters. Buitron visited the campus before enrolling, and while visiting other technical programs, kept thinking that Diesel Equipment Technology was what he wanted to study. He liked the hands-on work and even improved his tool box through his classes.
"I didn't want to go to a four-year college," he said. "I like school, but I wanted to get a two-year degree."
Buitron used financial aid and worked at a Waco retail store as a loss-prevention specialist.
"We closed at 10 p.m. on Fridays and on Saturdays at 11 p.m," he said. "All my classes were Monday to Thursday from 8 a.m. to 3 in the afternoon. At that time, I would do homework and study and go to work."
He wants to go back to college and study architecture, a subject he studied for two years in high school.
"I want to learn to make ideas into my own houses," he said.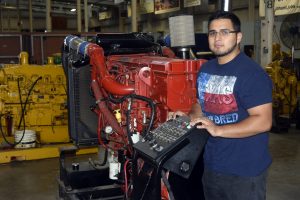 Written by Daniel Perry on August 17, 2016