Christmas came early this year for the children of Sunny Glen Children's Home in San Benito.  The Veteran Students Alliance Club, Skills USA and the Architectural Design and Engineering Graphics Club from Texas State Technical College in Harlingen helped them celebrate Christmas in July for the second year.
Veterans Program Officer Jose Villegas spoke of the importance of a holiday celebration for children at Sunny Glen.
"Christmas in July is important because it lets kids know that Santa is not only thinking of them around Christmas time, but also throughout the year."
Members of the club distributed various gifts that were donated by TSTC students and members of the community, and provided pizza and beverages for the jolly festivities.
TSTC Student Recruitment Representative Melissa Zamora stated that being involved in activities such as this helps build the leaders of tomorrow.
"We are buildi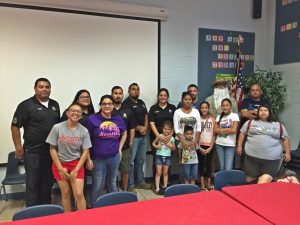 ng leaders by the exposure and experience that comes with participation in events like these.  Our students can build relationships, gain real-world experience and create customer service confidence that will directly lead to their intrinsic and extrinsic success.  TSTC has proven time and time again that our services are meant to 'hold hands' with our state and members of our community," she said.
Sergeant of Arms for the Veterans Students Alliance Club Rene Rodriguez described the most memorable moment for him throughout the day.
"When I broke the ice with the children and staff, that was special.  I asked the kids to say their names one by one and asked them what their favorite things to do are.  They all had a blast standing in front of their peers and discussing everything," he said.  "It's important for organizations to have events like Christmas in July because it gives back to the community, and especially to children."
Sunny Glen Community Relations Coordinator Sandra Rodriguez expressed gratitude towards the students who put this together.
"We at Sunny Glen feel so blessed to have had the members of these clubs put together such a wonderful event," said Rodriguez.  "It brought happiness to our children before the holidays."
The Veteran Students Alliance Club collects toys year round for this summer event.  Anyone interested in donating or volunteering can call the Veterans Center at 956-364-4386.
The Veterans Center helps transition military veterans and family members into civilian life as a student.
Any veterans interested in registering for Fall 2016 can apply now at http://www.tstc.edu/.  Deadline to register is August 22.
Written by Amanda Sotelo Sotelo on August 16, 2016