(WACO) – The challenge was broad, but Reannon Ruark was ready for it.
Ruark led 16 people in April to build what was heralded as the World's Largest Cookie Mosaic measuring 1,681 square feet at Baylor University. The work involved baking 43,000 cookies in three days and using them to create bear paws and a large "BU" in five hours. The event was originally planned for outdoors, but due to the weather, the feat was moved indoors to the university's Bill Daniel Student Center.
"You have to have a high tolerance for last-minute changes and an attention to detail," said Ruark, 34, of Waco.
She mastered her culinary skills at Texas State Technical College in Waco, where she received an Associate of Applied Science degree in Culinary Arts in 2012. Ruark said her first days as a culinary student were intimidating, but she was blessed to have Chef Gayle Van Sant as an instructor in the Food Preparation I class.
"Reannon is an example of the kind of student we want to produce," said Van Sant. "I like to see where our students fly and land."
Ruark went to work after graduation for Aramark, which has a catering and food service contract with Baylor. She is based at Baylor's East Village Bakery and involved in the production of pies, cakes, scratch-made glazed donuts, cinnamon rolls, gourmet cupcakes, cannoli and specialty treats.
"What I love about my job is when people appreciate the products," she said.
Another aspect of Ruark's work is catering campus events, such as Homecoming, Welcome Week and other activities. Planning for these events can start at least a month ahead of time.
"I put my hands in a lot of the custom stuff," Ruark said. "I also do a lot of the management."
Kyle McElroy, food service director of Penland Crossroads dining hall at Baylor, said Ruark has worked hard to define her culinary role at the university. She typically goes from planning the logistics of food demands during summer during two-a-day practices for the Baylor Bears football team to continuing the effort of producing scratch-baked goods for a majority of the university's dining locations.
"There is an industry shortage of qualified culinarians in general," McElroy said. "To have a local access to students of the caliber the TSTC Culinary Arts program produces, we would be lost without them."
Ruark was raised in Keller, Texas, and graduated in 2000 from Coppell High School in Coppell, Texas. She learned how to cook from her mother, Lavona Daily, a co-partner in the Cajun Corner restaurant in North Richland Hills in the Dallas-Fort Worth area.
"I grew up in a very matriarchal family," Ruark said. "It was my mother, my grandmother and both great grandmothers. We never ate fast food. We made actual marinara sauce with vegetables. Hot food is my passion, but I'm good at pastry."
Culinary Arts is Ruark's third career. She has previously been a medical assistant in invasive cardiology and a 401K business administrator in Waco. She learned about TSTC while helping a friend research colleges.
"I just decided I was done with the paperwork and wanted to do something I like," she said. "I made it a commitment to read and do homework. I decided as a grown woman I was going to do things right."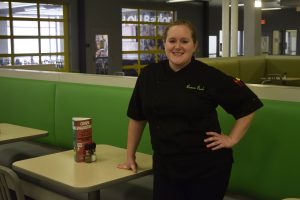 Written by Daniel Perry on August 12, 2016