(Fort Bend County) – Ben's Chuck Wagon is a popular catering company in Wallis, Texas where you can find the owner, Ben Pustejovsky, putting the skills he learned at Texas State Technical College to good use.
The Wallis native graduated from the TSTC campus in Waco in 2002 with an associate degree in Culinary Arts. Upon completing, he attended the University of Houston Conrad N. Hilton College of Hotel and Restaurant management. However, because Pustejovsky was already working in the field, he decided to pursue his career instead and use the skills he learned at TSTC to open his own business.
"My ultimate dream was to open a restaurant," said Pustejovsky. "But because I was already cooking, selling barbeque and catering parties and meetings, I was building a strong, loyal clientele for a catering business, so I pursued that instead."
Ben's Chuck W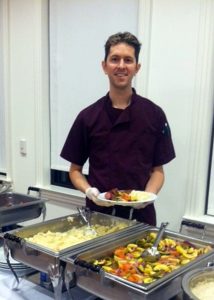 agon has been in business for 12 years and staffs approximately 20 employees. Pustejovsky and his team cater for parties, meetings and conferences ranging from 50 all the way up to 3,500 people. They serve southern comfort food such as chicken fried steak and barbeque with all the sides and fixings, in addition to holiday menus they save for November and December. They also customize menus based on their clients' wants and needs. TSTC in Fort Bend County is, of course, on his list of customers.
"TSTC really changed my life for the better. They gave me the start at building a successful career," said Pustejovsky. "They really gave me the foundation I needed."
The 35-year-old said his time at TSTC really gave him the confidence he needed to continue pursuing a career he has had an interest in since the age of seven. As a young child he cooked with his grandparents following family recipes and perfecting them with practice and patience.
"Cooking at a young age and having that support is definitely something I cherish," said Pustejovsky. "I took everything I learned from my grandparents and applied it in school and in my business. In fact, a lot of what I prepare and cook today comes from family recipes."
Pustejovsky added that TSTC was like a family to him. He said a four-year university was never in his path; he knew it was not for him.
"At TSTC you're definitely not just another number," said Pustejovsky. "All of the instructors know you by name and are always ready to help. I got all of the hands-on training that is necessary to be successful. I don't think I would have received that at a university."
Pustejovsky said he looks forward to his future and the future of his business. He hopes to expand his catering business around the Houston area and to open an additional location.
"I can only go up from here," said Pustejovsky. "I'm keeping my restaurant dream alive. With the right partner there's no telling what we could accomplish."
Certificates and associate degrees in Culinary Arts are offered at four of the 10 TSTC campuses: Waco, Harlingen, Williamson County and Abilene.
Registration is currently in progress for the Fall 2016 semester. You can apply or register anytime online at tstc.edu.
Written by Amanda Sotelo Sotelo on August 8, 2016