(Harlingen) – Brownsville native and United States Army veteran Benito Lara is working to earn his second associate degree from Texas State Technical College in Fall 2016 in Heating Ventilation and Air Conditioning Technology. He earned his first associate degree from TSTC in 2015 from the Automotive Technology program and is currently employed with Gillman Chevrolet. Lara currently holds a 3.5 grade-point average.
What are your plans after graduation? I want to use the technical knowledge and skills  I have learned during my time at TSTC. I hope to find a job that will have a good retirement plan and benefits.
What is your dre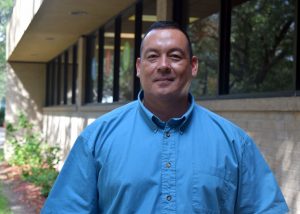 am job? My dream job is to work for the Customs and Border Protection as an automotive mechanic. I currently work at Gillman Chevrolet in Harlingen and I'm loving my job, especially, because my manager supports graduates and veterans from TSTC.
What has been your greatest accomplishment while at TSTC? I owe my greatest accomplishments at TSTC to the support programs that are in place at TSTC such as the Veterans Center. These programs were the key reason I was able to achieve a perfect 4.0 grade-point average and graduate with honors when I completed the Automotive Technology program and received my associate degree.
What greatest lesson have you learned about yourself or life? I have learned to be humble and accept that there is life after being in the U.S. Army for 23 years. I have been deployed to Kosovo, Saudi Arabia, Kuwait and Iraq and coming back it is great to see the support for military veterans at TSTC. I appreciate the support I have received from Joe Villegas and Steve Guevara from the Veterans Center at the college.
Name a TSTC person who most influenced your success? The person at TSTC who has influenced me the most is Adan Gutierrez, Industrial and Manufacturing division director. He has had a huge impact on the success I have found at TSTC with his great instruction and advice.
What is your advice for future TSTC students? My advice for future TSTC students is to use all of the available assistance programs offered to them by the college. They need to take initiative in all they do and never give up. TSTC will definitely prepare them for future success.
Written by Amanda Sotelo Sotelo on August 8, 2016