(WACO) – Wichita Falls brothers Johnny and Dean Perry, both Building Construction Technology students at Texas State Technical College in Waco, want to take over the world someday as a new version of Drew and Jonathan Scott, the stars of HGTV's popular show "Property Brothers."
The Perry brothers learned about career opportunities at the Building Construction Technology program's Employer Spotlight on Wednesday at TSTC. Ten companies from throughout Texas and as far away as Florida attended the event. More than 60 Building Construction Technology students attended. The students were required to bring their resumes, said Jerome Mendias, chair of the Building Construction Technology program.
Johnny Perry, 20, and Dean Perry, 18, both got interested in construction when they were students at Wichita Falls' Rider High School. The older brother influenced his younger brother to join him at TSTC to study in the program.
"It is a good field to be in because you are learning at the same time that you are helping people," Dean Perry said.
Johnny Perry also wants to delve into real estate after getting professional experience alongside his brother.
"I can see myself meeting important people and being the best person I can be," he said.
Richard Garrett, 30, a Residential Energy Efficiency Specialist certificate student from Clifton, said he liked how TSTC puts the focus on students getting employment after graduation. He is scheduled to graduate in December.
He said the employer event was a way to see what companies might be a good fit for his skills.
"It allows you to prepare and see what you are looking for and where you would start at," Garrett said. "I've always been interested in building as a profession. You do get a sense of accomplishment with finishing a project."   
Arthur Boussart, 23, a Building Construction Technology major from Taylor and a graduate of Taylor High School, is scheduled to graduate next spring but is already thinking about his job options in the Austin area. His goal is to become a construction superintendent one day.
"Each company that is here made me feel like I have an opportunity to grow," Boussart said.
The companies represented a range of services from sprinkler installation to mechanical services for construction projects.
Josh Roberts, an estimating supervisor at Nucor Building Systems in Terrell, said he wanted to attend the event because the company has hired TSTC students in the past. Nucor, the largest steel producer in the United States and largest recycler in the Western Hemisphere, is a Fortune 500 company seeking workers who exhibit leadership skills and knowledge of mathematics along with technical abilities in welding, estimating, detailing and other fields.
"We recognize TSTC as a place to build a relationship with because there are good people," Roberts said. "TSTC, from what I have seen, has done a good job of reaching out."
Brad Bailey, a general superintendent at Brazos Masonry Inc. in Waco, attended the employer event to talk to students about the need for bricklayers. The company has done work in Waco, Austin, Edinburg, Dallas, Fort Worth, Houston and Midland.
"We need people whether they need to learn or have experience," Bailey said. "There's more work now than we can manage."
The Building Construction Technology program worked with TSTC's Industry Relations and Talent Management to plan the event.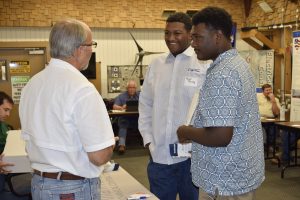 Written by Daniel Perry on July 21, 2016