(WACO) – Devon Wilson began observing his mother and aunts cooking when he was in elementary school.
Now, the 17-year-old 11th-grade student at Rapoport Academy in Waco enjoys baking cakes and wants one day to open his own restaurant.
Until then, he can learn and watch – which is what he and 19 other Waco and Killeen students are doing this week at the Education Service Center Region 12's three-day Culinary Arts experience at the Greta W. Watson Culinary Arts Center at Texas State Technical College in Waco.
"For me, it is to get a close look into the culinary arts business and how to start off," Wilson said.
Students attended their first session on Monday learning about knife cutting and using their skills to chop potatoes to make French fries. The students also used a recipe provided by Culinary Arts program staff to make spicy dipping sauce.
On Wednesday and Friday, the high school students will learn about baking and meat.
"I think hands-on learning is better than anything," said Nakeria Lynch, an Upward Bound site coordinator for Region 12 ESC in Waco.
Jasmine Ramos, 17, a senior at Waco High School, said she enjoyed using knives.
"When you cut, you rock the knife instead of going straight down," she said.
Ramos, an aspiring nurse, looks forward to learning more cooking skills throughout the week.
"I hope one day to cook for my mother and make her happy," she said.
Culinary Arts faculty members and students regularly do outreach activities with area youth in Boy Scouts, Girl Scouts and summer camps.
"They are the future," Culinary Arts faculty member Gayle Van Sant said. "We hope the passion that we have can transfer to the students through food. It is a diverse industry. We like to see up-and-coming students."
Region 12's students have learned so far this summer about leadership skills, self-defense and community service and visited the University of North Texas in Denton. Later in July, the group will take an educational trip to Washington, D.C.
The high school students are part of Region 12's Upward Bound program. The initiative from the U.S. Department of Education works with students from low-income or educationally deficient-families who are expected to be first-generation college students.
"It (Upward Bound) gives you more of an experience with college," said Brittaney Rivera, 15, a 10th-grade student at Killeen High School. "It helps you decide what to do and helps you with your studies."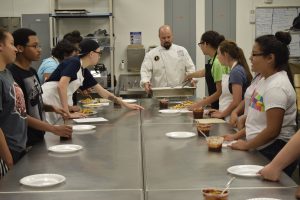 Written by Daniel Perry on July 13, 2016