(HARLINGEN) – Texas State Technical College supporters have partnered with the TSTC Foundation in a statewide campaign called "Make a Texas-Sized Difference," encouraging TSTC alumni and supporters to donate to the Texan Success Scholarship.
Steering committee members are: Frank Espinoza, committee chair, TSTC Foundation Board member and AEP manager of Community Affairs; community and business leaders including Ruthie Ewers, Ricky Leal, Debe Wright and Board of Regent Linda McKenna; TSTC alumni Edna Posada and Lucia Regalado; and TSTC retirees Dr. J. Gilbert Leal, Al Guillen, Mike Buck and Charlie Perez. TSTC Provost Dr. Stella Garcia; and South Texas Director for the TSTC Foundation Amy Lynch are also on the committee.
"We have come together as business people, TSTC alumni and members of this community because we believe in TSTC and in our students," said Espinoza. "It's our responsibility to make sure this generation of students succeeds at education."
Garcia said the committee is working on strategies to ensure the Harlingen campus is successful during this new scholarship campaign. The committee is reaching out to prospective donors and identifying events where individuals such as TSTC retirees and TSTC alumni can come together and re-engage with the college.
"The committee is raising TSTC brand awareness and helping us create a culture of giving beyond the annual Noche de Gala fundraiser held in December," said Garcia. "We still intend to hold the gala, but this scholarship campaign keeps the dialogue going with local and regional community and business leaders to ensure that our students are top of mind of current and prospective donors."
This scholarship is "non-need based" $1,000 award for new, full-time students to provide cost assistance for the first two consecutive semesters of enrollment at TSTC.
To be considered for the scholarship a student must be nominated as an excellent candidate for one of TSTC's technical programs by a high school academic or career counselor, a TSTC recruiter or TSTC faculty member.
Students are then evaluated and can be awarded if they are eligible for high school graduation, have a minimum of a 2.0 grade-point average, completed the conditional admission status for TSTC and demonstrated the potential to succeed in their desired technical program.
"We have such a need in the Rio Grande Valley and United States for an educated workforce trained in technical trades and TSTC graduates students perfectly ready for a job," said Ewers. "I know that some students are unable to afford this type of education. That's why I'm working hard to collect money, so we can send these young people to TSTC for an education like none other."
TSTC offers more than 60 technical programs statewide.  Harlingen offers approximately 40 programs with awards that include Associate of Applied Science and Associate of Science degrees, technical Certificates of Completion and workforce certificates. Additionally, TSTC in Harlingen offers an Academic Core with transferable credits to all four-year universities in Texas, and provides opportunities for immediate employment.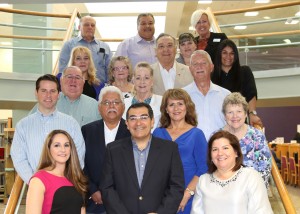 To make a donation to the Make a Texas-Sized Difference Campaign, learn more about TSTC or giving opportunities to the college, go online at http://www.tstc.edu/tstcfoundation/annualscholarship/  or call 254-867-3900.
Written by Julie Cromeens on April 8, 2016