(​BRECKENRIDGE) – ​The Breckenridge Rotary Club presented Texas State Technical​ College with a check for $1,000 Tuesday at their rotary luncheon.
The money will go towards scholarships to help students with tuition and supplies.
Les Strickland, president of the Rotary Club said they gave the money to TSTC because they like to help the students.
"We believe in TSTC," Strickland said. "We like having the campus here and we want to see it grow."
TSTC will begin registering new students for the summer and fall semesters Monday, April 4. For more information on the college, visit www.tstc.edu.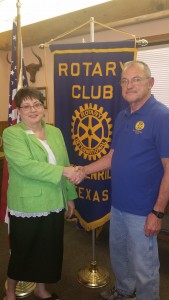 Written by Debra Gonzalez on March 22, 2016