(WACO) – Andre Bernal and Joseph Ramos Jr. have been linked since they were preschoolers.
The two attended Head Start together, grew up a street apart, both attended the old University Middle School and graduated together earlier this year from University High School in Waco.
Now, the lifelong friends are students at Texas State Technical College in Waco. Bernal, 18, is a Computer Network and Systems Administration major and Ramos, 18, is an Automotive Technology major. Both are Texan Success Scholarship recipients.
The students are among more than 20 members of the 2015-16 cohort of Prosper Waco's Project Link representing University High School and La Vega High School to enroll at TSTC this fall.
Project Link is a grant-funded initiative aimed at creating a college-going culture by connecting students to higher education and the workforce. The La Vega Independent School District, the Waco Independent School District, McLennan Community College, TSTC and Prosper Waco are partners in the project, which included more than 130 high school seniors in its first year who took advantage of education and career advising. The program had 730 students in grades nine to 12 last year, according to Project Link information.
"The liaisons at the high schools did a good job preparing them for college," TSTC Project Link Coordinator Brandon Chappell said. "Some of the students registered toward the end of registration. We need to be more aggressive and keep them on track after graduation. Financial aid was a common question from the students."
Bernal and Ramos are among the first generation of their families to attend college – something Project Link campus liaisons look for when recruiting students.
So far, Bernal has discovered TSTC's Murray Watson Jr. Student Recreation Center to play pickup games of basketball. He wants to work in the technology field after graduation and pursue a bachelor's degree.
"I am not used to long breaks between classes and the free time," Bernal said. "I am getting used to it. I am meeting new people."
Ramos took automotive classes for four years in high school and said he wanted to learn more in college. He wants one day to work at a Chevrolet dealership.
Bernal, Ramos, and their University High School classmates all completed applications through ApplyTexas and had a 100 percent federal financial aid application completion rate. La Vega's Project Link seniors had a 98 percent federal financial aid application completion rate and a 100 percent ApplyTexas application rate.
The program has made some changes to start the new academic year.
Project Link has expanded to Waco High School and added a campus liaison, while University High School has two new program liaisons to work with students.
"With the addition of Waco High School, Project Link will be serving 1,000 high school students at three different high schools for year two of the program," said Natalie James, Project Link Coordinator at McLennan Community College.
For more information on Prosper Waco and Project Link, go to prosperwaco.org.
For more information on TSTC, visit tstc.edu.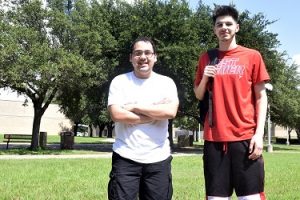 Written by Daniel Perry on September 2, 2016