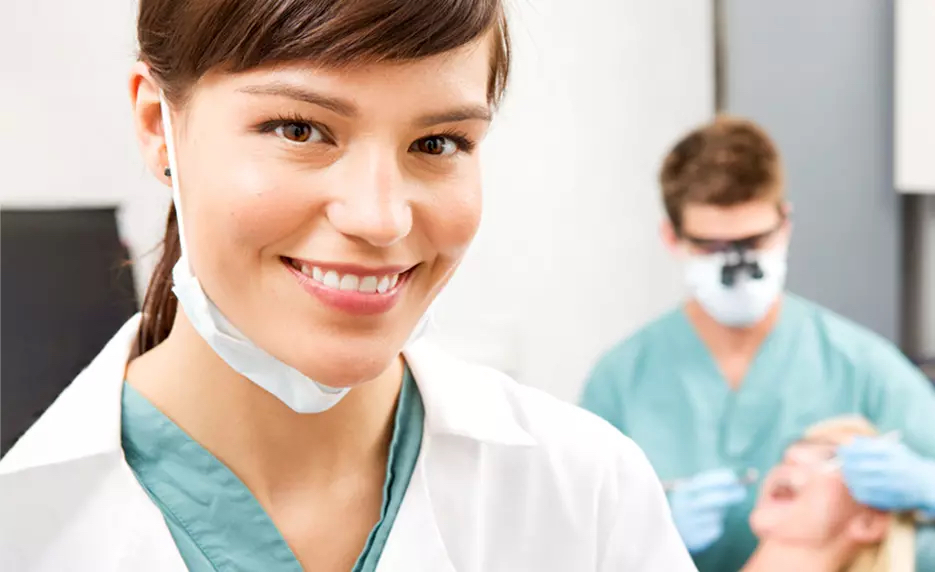 This 100% online course will help you gain the technical skills you need to join a dental office as a clinical dental assistant. Through interactive lessons, you will also prepare for the Radiation Health and Safety and Infection Control components of the Certified Dental Assistant (CDA) Exam.
Job Outlook for Clinical Dental Assistants

According to the Bureau of Labor Statistics, the average salary of a clinical dental assistant is currently just under $38,000 per year.
Employment is projected to grow by 19% through 2026, which is considered much faster than average. Job demand for dental assistants is projected to grow 10% over the next decade.
Dental Assistant Program Course
Curriculum
Introduction to the Practice of Dentistry
Dental Health and Disease
Oral health and preventative techniques; etiology of dental disease
Anatomy and Physiology
Basic human physiology, embryology and histology; head and neck anatomy
Infection Control
Microbiology, infection control and managing hazardous materials
Basics Dental Assisting
Patient care, dental charting and pharmacology; anesthesia and sedation, chair-side assisting and dental instruments and tray setups
Radiology
Producing and processing quality radiographs; extraoral and digital radiography
Dental Materials
Dental cements, bases, liners, and bonding agents; restorative materials, dental dams, matrix, and wedges
Dental Assisting In The Specialty Practice
Oral pathology and maxillofacial surgery; endodontics, pediatric dentistry, periodontics and prosthodontics
Dental Office Management
Records management; administrative techniques
WHAT DOES A CLINICAL DENTAL ASSISTANT DO?
You will have a wide range of important duties as a clinical dental assistant. Your job will vary based on the dental office you work for and the state your work in. Some typical duties include preparing patients for treatment, sterilizing tools, instructing patients on proper dental hygiene, passing instruments to the dentist during procedures, keeping records of treatments, scheduling appointments, processing x-rays, and working with patients on billing and payments. In a few states, dental assistants may be able to polish teeth, apply sealants and fluoride, and give topical anesthetics.
WHAT KIND OF HOURS DO CLINICAL DENTAL ASSISTANTS WORK?
Most dental assistants work a full-time schedule of 40 hours per week, however there are some dental assistants that work part-time. Many of the hours will be worked during the day, but depending on your dental office, you may be asked to work some evenings or weekends.
WHERE DO CLINICAL DENTAL ASSISTANTS WORK?
Almost all clinical dental assistants work in dental offices under the supervision of dentists, though some may find employment with the government or in physicians' offices. Dental assistants work very closely with dental hygienists. In this position, you will be on your feet for large portions of the day and wear surgical masks, safety goggles, gloves, and protective clothing to prevent the spread of infectious diseases.
IS A CLINICAL DENTAL ASSISTANT THE SAME AS A DENTAL HYGIENIST?
No, a dental assistant and a dental hygienist are not the same. A dental assistant directly supports a dentist with small, supervised jobs performed on patients' teeth and administrative tasks in the office. A dental hygienist will work one-on-one with patients with less supervision. A dental assistant can practice after earning a dental assistant training certificate while a dental hygienist must obtain an associate degree in dental hygiene at minimum.
Course Objectives
Prepare for the Radiology and Infection Control portions of the Dental Assisting National Board
Identify of teeth and their functions, as well as the anatomy of the head and neck
Sterilization and disinfection techniques and infection prevention
Completing patient charting and take vital signs
Prerequisites and Requirements
To take this online course, you should have one of the following: High School Diploma, GED or equivalent, entrance test, or previous healthcare experience. To qualify for the certification exam, a High School Diploma or equivalent is required. Please check with your state for any specific requirements they might have before registering.
Instructors
Cindy Lamkin
Cindy Lamkin has been employed in the dental field for over 20 years. She graduated from the University of South Dakota with a degree in dental hygiene and holds Registered Dental Assistant and Registered Dental Hygienist credentials. In addition to practicing clinical hygiene, she has also worked in dental office administration and treatment coordination. Her career includes general dentistry, as well as specialty practices of periodontics, endodontics, pedodontics, and orthodontics.