Texas State Technical College (TSTC) is accredited by the Southern Association for Colleges and Schools Commission on Colleges (SACSCOC), one of six regional accreditation organizations for institutions of higher education recognized by the U.S. Department of Education. As a regional accreditor, SACSCOC affirms the accreditation of an institution as a totality. Accreditation extends beyond the main campus to include call centers, campuses, or other sites at which postsecondary degree or non-degree work is offered as well as all work offered through distance education. To gain or maintain accreditation with SACSCOC, TSTC must comply with the standards contained in The Principles of Accreditation: Foundation for Quality Enhancement and with the policies and procedures of the Commission. Maintaining accreditation ensures that the college remains in compliance with federal expectations and continues to receive federal Title IV funding.
Filing a Complaint
Information about the accreditation status of TSTC can be found on the SACSCOC website. The procedure for filing a complaint against the College is detailed on SACSCOC's Complaint Procedures Against SACSCOC or Its Accredited Institutions Policy Statement. Filing a complaint with SACSCOC should only address significant, documented, alleged non-compliance with the SACSCOC accreditation standards, policies or procedures. SACSCOC expects individuals to attempt to resolve the issue through all means available to the complainant, including following the institution's own published grievance procedures, before submitting a complaint to SACSCOC.
Statement of Accreditation
Statement of Accreditation
TSTC is accredited by the Southern Association of Colleges and Schools Commission on Colleges (SACSCOC) to award associate degrees. Degree-granting institutions also may offer credentials such as certificates and diplomas at approved degree levels. Questions about the accreditation of TSTC may be directed in writing to the Southern Association of Colleges and Schools Commission on Colleges at 1866 Southern Lane, Decatur, GA 30033-4097, by calling (404) 679-4500, or by using information available on SACSCOC's website (www.sacscoc.org).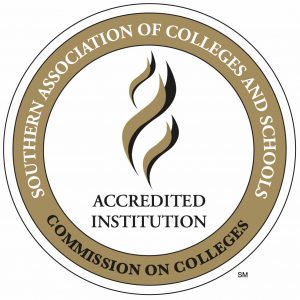 Contact
Celina Garza, M.Ed.,
Vice President and TSTC
SACSCOC Liaison
Texas State Technical College, 1902 N. Loop 499 Harlingen, TX 78550