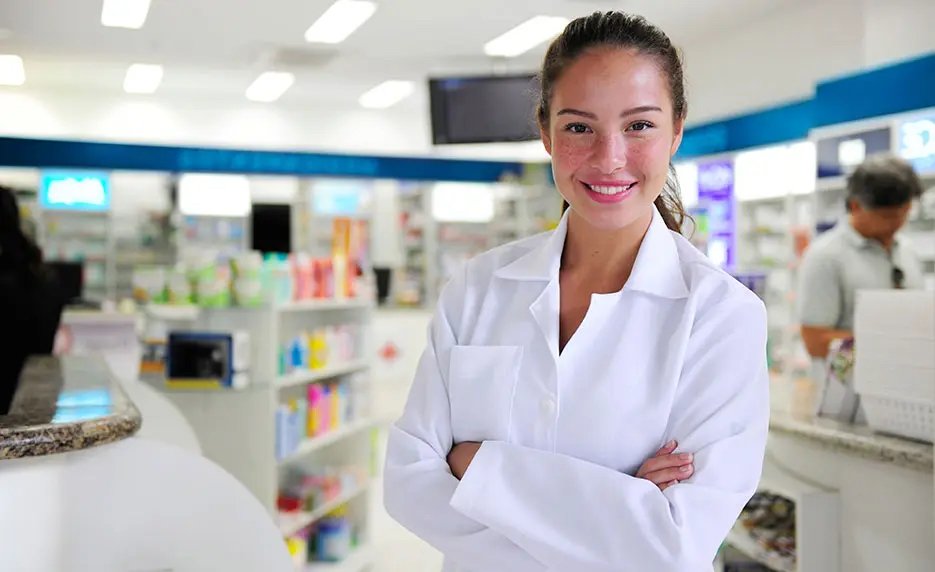 Pharmacy technicians have become indispensable to the healthcare industry, and it's a great time to join this growing field. Pharmacy technician classes can get you started on this fulfilling career path. You will gain the skills and knowledge to qualify for entry-level pharmacy positions and be prepared for national certification.
Job Outlook for Pharmacy Technician

The US Bureau of Labor Statistics (BLS) estimates that jobs for Pharmacy Technicians with certification will increase by 12 percent over the next several years, which is faster than average. Increased demand for prescription medications will be the primary driver of the growth in number of positions. The BLS also suggests that people with formal training or certification will be more sought after to fill open positions.
Please Note: This course does not meet state requirements for students intending to work in North Dakota, Utah, Virginia, Washington, and West Virginia.
Pharmacy Technician Program
What you will learn
The federal and state laws that govern pharmacy, as well as the ethics of pharmacy practice.
HIPAA requirements and their application to pharmacy.
How to interpret physician orders and prescriptions.
Techniques required to order, stock, package, prepare, and distribute medications.
Definitions of medical and pharmaceutical terms and common abbreviations.
The pharmacology of medications in relation to the anatomy affected.
What does a pharmacy technician do?
Pharmacy assistants and technicians order and stock medications; prepare and package medications for distribution to patients; and provide information to patients. Pharmacy technicians may perform many of the same duties as a pharmacist; however, all of their work must be checked by a pharmacist before medication can be dispensed to a patient.
Where can pharmacy technicians work?
Pharmacy technicians work in pharmacies. A pharmacy can be found in hospitals or healthcare facilities, drug and grocery stores or may be independent.
How long does it take to become a pharmacy technician?
Many pharmacy technician programs can be completed in one year or less. This does not include the time you spend in an externship program or preparing and sitting for state licensure.
Course Objectives
How to perform pharmaceutical calculations.
How to process insurance billing and collect payments.
How to communicate successfully with patients and medical professionals.
Prerequisites and Requirements
If you're interested in becoming a pharmacy technician, this course is for you! No healthcare or medical office work experience is required.
You should be proficient in keyboarding (approximately 35 words per minute), have a basic understanding of a word-processing computer program (Microsoft Word is recommended), and have a command of English grammar and punctuation.
You are encouraged to have a basic understanding of high school math, including percent and proportions, at the algebra level. This course will review fractions and decimals and cover more advanced pharmacy equations.
Certification Requirements:
To sit for the nationally recognized Certified Pharmacy Technician (CPhT) exam, you must complete a training program recognized by the Pharmacy Technician Certification Board (PTCB) or have equivalent work experience. This course is recognized by the PTCB. For additional information about equivalent work experience.
State Requirements:
You must ensure that this course meets the requirements to work as a pharmacy technician in your state. For more information, visit your state's Board of Pharmacy site directly from the Pharmacy Technician Certification Board (PTCB) website. Click on the "Who We Serve" link, then the "States" link for information. You can also call the state board and ask for the current technician regulations. This course does not meet state requirements for students intending to work in North Dakota, Utah, Virginia, Washington, and West Virginia.
To participate in the retail externships, you must apply and fulfill all state and local pharmacy requirements. This will include a background check and drug test. There is no guarantee for externship placement.
Instructors
Melissa Dunworth
Melissa Dunworth has been a pharmacy technician for over 13 years and has worked in retail, closed pharmacy, and training/education areas during her career. Melissa holds a Bachelor's degree in Speech and Hearing Sciences and works as a Developmental Specialist in Early Intervention for children ages 0 to 3 years. She has been a certified pharmacy technician since 1997. Melissa is also registered with the New Mexico Board of Pharmacy.
Betty Stahl
Betty Stahl holds a doctorate in pharmacy from Shenandoah University. Over the past several years, she has taught pharmacy technician programs at ASA College in New York City and ACT in Arlington, Virginia. Stahl has also worked as a pharmacist in independent and hospital settings.