(HARLINGEN, Texas) – It has been more than 10 years since J. Gilbert Leal retired as president of Texas State Technical College in Harlingen. But at a recent plaque presentation ceremony hosted in his honor at the TSTC Learning Resource Center that bears his name, it was evident that his educational legacy lives on.
"He is the true legend of TSTC's Harlingen campus," said TSTC Vice Chancellor, Chief Legal Officer and General Counsel Ray Rushing. "He started many of the strategies, programs and partnerships this college has seen. It takes a true visionary, and Gilbert Leal is the man, the myth and the legend."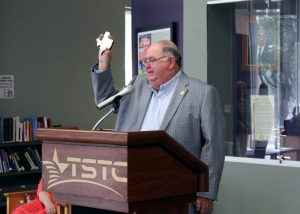 Leal served TSTC for 30 years before retiring in 2008 and being named president emeritus by the TSTC Board of Regents. The college's library was named in his honor as the Dr. J. Gilbert Leal Learning Resource Center.
"Everything Gilbert Leal did during his service to the college had a ripple effect," said TSTC Provost Cledia Hernandez. "And he continues to invest in the region's education and continues to serve our campus wholeheartedly."
When Leal started as an Adult Basic Education instructor in 1969 while TSTC was still Texas State Technical Institute, the campus sat on only 25 acres, had four buildings and enrolled 67 students.
"To this day we see the impact that Gilbert Leal had on our campus," said Hernandez. "What we are today comes from taking risks and thinking big, and that is how Gilbert helped TSTC in our region grow."
At the ceremony, Leal was presented with a commemorative plaque that reads, "In recognition of and in appreciation for your commitment and support to Texas State Technical College."
The Texas-shaped plaque was designed and manufactured by students in TSTC's Precision Machining Technology program.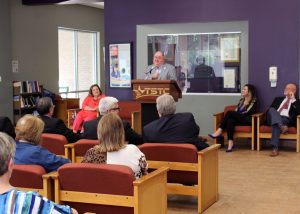 "When I'm at TSTC, I am home," said Leal. "The people here are my family."
To put into perspective how far TSTC has come, Leal mentioned that the Learning Resource Center is situated on land once occupied by a recreational vehicle park.
"TSTC has become a respected technical college that plays a major role in the development of technical skills needed to meet industry demand," said Leal. "And it's important to remember why we're here: for the students."
Leal said his favorite thing about TSTC is how it changes lives and inspires students to greatness.
"Learning and teaching are at the forefront of everything TSTC does," he said. "Not only is it a great place to learn, but it is also a great place to work, which is a benefit to the students who walk through this campus. So keep up the great work, TSTC, and know you have my continued support. You can't keep me away."
For more information about the programs offered at TSTC, visit tstc.edu.