(HARLINGEN, Texas) – From one day to the next, Texas State Technical College student Josephine Delgado faced homelessness. But TSTC was there to make sure that did not happen.
Delgado said that the Sunday she lost the security of having a roof over her head began as a fun day. She headed to church without a care in the world.
But when she got home, her life turned upside down.
"I lived with my sister in an apartment only down the road from the college," she said. "It was a perfect setup. But without warning, my sister relocated to Corpus Christi with her children."
Delgado had recently earned her associate degree in Business Management Technology at TSTC and was finishing up a few extra classes. She found herself worrying about where she would live, how she would pay for it, and how she would get to school and work if she had to move back to her former home in San Perlita more than 30 minutes away.
"I was panicking. I only had one day to find a new place. I had no car, so moving home was not an option," said the 23-year-old.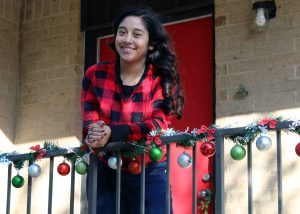 Immediately Delgado put a phone call in to some friends and mentors at TSTC Student Life and Engagement, where she was a student worker.
She was advised to speak to TSTC housing and student support representatives to take a look at her options.
"Without the help I received from TSTC, and so quickly, I don't know what would have happened," said Delgado. "But as quickly as I lost my home, TSTC helped me find another."
TSTC assisted Delgado with scholarships and grants to get her settled into her new home on campus.
The scholarships and grants awarded to Delgado came from donations contributed to TSTC's employee giving campaign.
Employees can select to give to the Stephen & Susan Snyder Helping Hands Scholarship and to scholarship funds.
The type of housing assistance Delgado received, along with the student food pantry and emergency aid, fall under the auspices of Helping Hands.
The TSTC Foundation Director of Stewardship and Donor Relations Jennifer Colten said a recent study identified that 72% of students at TSTC's Harlingen campus are in critical need of financial assistance, making employee contributions important.
"The Harlingen campus has the greatest percentage of economically disadvantaged students," she said. "And if we can give students immediate assistance with things such as housing, which is such a gift."
As for Delgado, her time as a student at TSTC will come to an end next spring. But she hopes to return to TSTC as a full-time employee so she can help others the way she has been helped.
"I am so thankful for TSTC. Because of the help I received, I was able to finish my education," she said. "The culture at TSTC is one of service and support for their students and employees. And I want to be a part of that and help make a difference in someone's life the way TSTC has made a difference in mine."