(HARLINGEN, Texas) – It was 1991 when Ester Bodnar began her career at Texas State Technical State College as a work study employee, never imagining it would be a place she still calls home 30 years later.
Bodnar was recently recognized for her three decades of service to the college during TSTC's Employee Appreciation Day event recently hosted at Victor Park in Harlingen.
"It's like they say; time really does fly when you're having fun," said the 46-year-old. "I had no clue what I wanted to do or be when I enrolled at TSTC. All I knew was the importance of education and I was fortunate enough to learn and find my career at the same place."
In 1991, Bodnar earned an associate degree in Automated Office Technology, when TSTC was Texas State Technical Institute.
While in school she worked as a work study for the Business Office, but upon graduating earned a full-time position as a cashier.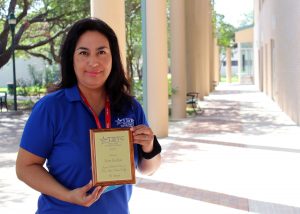 "Over the years I have had the opportunity to work with various departments within the college," she said. "TSTC has always given me the opportunity to grow personally and professionally. They have helped me take leaps of faith within my career."
Through the years Bodnar has served as the secretary for the Public Information Office, which is now Communication and Creative Services; senior secretary for the President's Office, now Provost Office; TSTC system analyst; assistant director for what used to be Institutional Effectiveness and Research and finally, her current role as an application administrator for the Office of Technology (OIT).
"Technology is constantly changing and I feel fortunate that I've been able to witness this from different perspectives," said Bodnar. "I never thought I would be here 30 years later, but here I am, eating, breathing and sleeping TSTC."
And in 2012, Bodnar took another leap of faith and returned to college; this time earning a bachelor's degree in Business Management from the University of Phoenix.
"It was a tough two years. What a challenge," she said. "I was working full-time, had a family at home and going to school, but I was determined and focused on finishing and that opened more doors for me here at TSTC."
Bodnar said that among all of the things she loves about working for TSTC, her two favorite things are the opportunities TSTC gives its employees to personally and professionally advance, and the family she has created with the many colleagues she has had the chance to work with over the years
"TSTC prides itself on being a great place to work and it really has been," said Bodnar. "I've been fortunate to work with people who have become mentors and have touched my life. I love that we all work toward one common goal and that is student success. No matter what department I've been with I've always been able to see the impact we make in someone's life."
As a person who was always encouraged as a child to go to college, she remains an advocate of higher education, and as an employee at TSTC she gets to have a part in promoting this importance 24/7.
"I'm a walking billboard for TSTC," she said with a laugh. "TSTC has been a huge part of my success and that of my family's, and I enjoy spreading that message around the community."
In fact, Bodnar's husband, Dan, whom she met when she began working at TSTC, was recently recognized for his 35 years of service to TSTC and their oldest daughter is a student in the Chemical Technology program.
Their youngest, who is a junior in high school, also plans to enroll at TSTC as an Architectural Design and Engineering Graphics student.
Bodnar, who has also received numerous awards throughout her time at TSTC including a Staff Excellence Award, a Presidential Award and President's Coin, said she hopes to grow within the OIT department in the future, but no matter what, she will always be a large advocate for TSTC.
"I want to continue making an impact at this college for many more years to come, the way it has made an impact on my life," she said. "TSTC is a big part of who I am and I'm proud of my years of service and I can't wait to see what's next."
To learn about job opportunities at TSTC, visit tstc.careers.