(HARLINGEN, Texas) – In one year, Texas State Technical College student Christopher Machado will earn an associate degree in Automotive Technology, making him the first in his family to graduate from college.
But the 19-year-old also has one other thing to be proud of: He already has a full-time job in his chosen career field.
"It's great to be working already," said Machado. "I feel like this makes me one step closer to my goal."
The Brownsville native is a lube technician at Luke Fruia Motors in Brownsville.
"Once I started school, I realized it was time to find a place where I can grow," he said. "And that's were Luke Fruia came into the picture."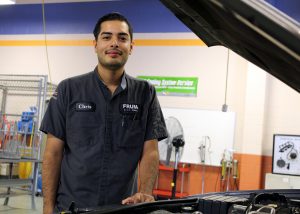 Machado said his interest in cars goes back to his being a child helping his father and uncle repair and refurbish vintage cars.
"I grew up around auto mechanics. That's all I've ever known," he said. "Yet not going to college wasn't an option. So TSTC's automotive program was the perfect choice."
From hands-on training in the classroom to using what he learns in real life, Machado has become a well-rounded student.
"I take things from the classroom and apply it at work, and I take things from work and apply it in the classroom," he said. "I already feel like I've grown as an automotive professional because of this opportunity."
Machado also credits his instructors for his newfound success.
"They have so much experience and knowledge to pass along," he said. "Not to mention they're understanding. They have been able to work with my schedule so that I can work but still get my education."
Cris Cisneros, Luke Fruia Motors' service manager and Machado's direct supervisor, described Machado as a skilled, dependable, reliable and punctual employee.
"He may still be a student, but he came to us with impressive skills and the willingness to learn," said Cisneros. "He is a great asset to the company, and there will be growth opportunities for him in the near future."
Cisneros added that Luke Fruia has a longtime relationship with TSTC and has hired other TSTC automotive students and graduates in the past.
"We've always had a great experience with TSTC, its instructors, students and graduates," he said.
Although Machado has already learned a lot and improved on his skills since entering the program, he said he still has a lot to learn.
"All of the experiences I have been exposed to have opened my eyes into deeper levels of the industry," he said. "There are constantly new techniques and processes to learn, and I know this next year will continue to prepare me for my career."
Machado's ultimate goal is to work on race cars, and he knows that to get good-paying jobs, education is key.
"Education is so important to me because that's what's going to open doors of opportunity for me in this industry," he said. "Nearly every job requires some sort of certificate or degree."
Automotive Technology is also offered at TSTC's Sweetwater and Waco campuses.
For more information on Automotive Technology, visit https://tstc.edu/programs/AutomotiveTechnology.