Architectural Design and Engineering Graphics graduates from Texas State Technical College are finding that the demand for their skills is increasing as highway, road and subdivision developments are growing across the state.
TSTC Architectural Design and Engineering Graphics statewide Department Chair Samuel Pizano said students are being recruited across the Rio Grande Valley and statewide, maintaining the programs already 98% job placement rate.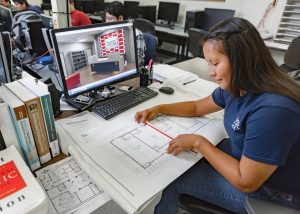 "The projected trend for this industry shows an increase in demand over the next five years," said Pizano. "In fact, I recently learned that a Texas bill was just passed to allow those with associate degrees to obtain a land surveying license, previously only offered to those with a bachelor's degree."
Below, Pizano goes on to explain the skills students in Architectural Design and Engineering Graphics are learning and how these skills and the program's technology is making them job-ready.
What is the length of the program?
The program offers an associate degree track that is five semesters or 20 months long.
What can a student expect when they graduate?
At the moment, students can test to receive a surveying technician certification, a certificate that is impressive to employers and gives students an advantage when applying for jobs.
What skills do students learn in Architectural Design and Engineering Graphics?
Students in the program will gain skills in two-dimensional and three-dimensional designing for architecture, civil and mechanical industries, and Geographic Information System (GIS) and Global Positioning System (GPS). By the time a student graduates, he/she will be familiar and have experience in all three areas allowing them to choose the area that suits them best.
What types of technologies are used to learn these skills?
Architectural Design and Engineering Graphics students have access to five computer labs and a workshop equipped with high-end, industry-standard computers for design and rendering, industry-standard software such as AutoCAD and Autodesk Revit, three-dimensional printers, a water-jet cutter, HoloLens mixed reality and a drone for land surveying.
How do these skills prepare a student for the workforce?
Program faculty and staff focus on real-world, hands-on training that emulate what students will see when they enter the workforce. The goal is to make our graduates' transitions smooth because they are familiar with every aspect of the industry.
What types of positions can a graduate from this program obtain?
Graduates from this program can obtain positions as architectural and civil drafters, entry-level CAD technicians and designers, GIS technicians and surveying technicians. Local and statewide companies such as TEDSI Infrastructure Group, CASA Engineering Civil and Structural, Pape-Dawson Engineers and CONSOR Engineers hire TSTC grads.