(HARLINGEN, Texas) – For high school seniors, picking a college can be stressful. But for a handful of Rio Grande Valley high school students, choosing Texas State Technical College was an easy decision.
Recently several technical dual enrollment seniors signed a "Change of Major" form, marking the transition from high school student to college student, during TSTC's first Senior Spotlight signing event at the Dr. J. Gilbert Leal Learning Resource Center on campus.
"We hosted this event to celebrate these students' accomplishments and to welcome them to the TSTC family," said TSTC dual enrollment recruitment representative Sarai Duran. We're so proud of them and are excited that they chose TSTC as their college.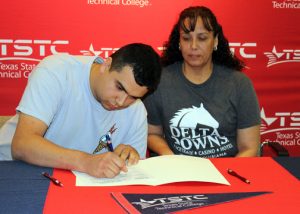 Technical dual enrollment provides high school students the opportunity to take college courses and earn simultaneous college and high school credit in a technical program.
College courses are available at some high school campuses through a credentialed instructor, through distance learning classes taught by a TSTC instructor, and on-site at TSTC.
The students recognized during Senior Spotlight have completed at least one semester in a technical program such as Auto Collision and Management Technology or Wind Energy Technology and will attend TSTC in Fall 2019 to pursue a certificate or associate degree.
There are currently 13 dual enrollment pathways at TSTC that high school juniors and seniors can pursue. At the end of each pathway, the student completes an average of 12 semester credit hours, or one semester of study.
"Completing four courses within a program while still in high school not only gives these students a head start, but it is also a money saver for them and their families," said Duran.
As a dual enrollment student, each student's tuition, books and supplies are covered by the school district they attend.
For Lyford High School senior Orlando Gonzalez, dual enrollment was a game changer, and he said he is looking forward to becoming what he calls a "full-fledged" TSTC student in the Auto Collision and Management Technology program.
He was bused in every morning from Lyford to attend classes on campus.
"To have this kind of opportunity is invaluable to me and my future," said the 19-year-old. "I love working with my hands, and I never thought a university was for me, so I'm lucky to have found a college where I can pursue my interests while still working toward a rewarding career."
He also said that being a dual enrollment student has made his transition from high school to college less nerve-wracking and has saved him time and money.
In fact, at the Senior Spotlight, Gonzalez's name was drawn for a $1,000 scholarship that can be used for tuition, books or tools.
"Dual enrollment has allowed college to be less of a financial burden for my family, and this scholarship takes it to the next level," he said. "I'm very excited to be joining the TSTC family in the fall."
Gonzalez will be graduating from Lyford High School at the end of the month.
Representatives of several TSTC programs, along with staff from enrollment, student life and housing, were available at the event to answer questions and give parents and students more information about the college and their transition.
"Our goal with dual enrollment is to capture a student's interest in college while still in high school and give them the opportunity to discover their interests," said Duran.
"Many middle-skilled jobs in Texas are in demand, and those jobs make up half of the labor market. These students are going to get those jobs because most students who complete dual credit are more likely to complete their degree," she said.
Duran added that many of TSTC's graduates have jobs waiting for them when they graduate, and TSTC's industry partners actively recruit them.
For more information on the programs offered at TSTC, go to www.tstc.edu.