(HARLINGEN, Texas) – It was quite an experience for Pedro Casillas and more than 40 of his peers as they helped save lives in a mock two-vehicle accident during Extrication Day hosted by the Texas State Technical College Emergency Medical Services program.
"This was a great opportunity to practice what I've learned in the classroom," said Casillas. "It was exciting to be able to showcase our skills to the local first responders who could hire us someday."
Casillas, who works in beach patrol with the South Padre Island Fire Department, said he appreciates TSTC giving students like him this type of opportunity.
Extrication Day serves as training for EMS students to allow them to put their skills and knowledge to the test in a mass casualty incident drill while working with other first responders at the scene.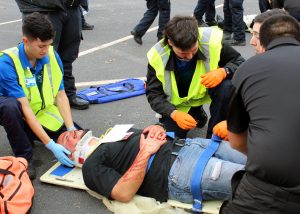 TSTC EMS instructor Adriana Contreras said Thursday's drill marked one year since the program began hosting Extrication Day, and she has discovered that both new and returning students look forward to participating in it.
"This is a big step toward them starting their careers in this field," said Contreras. "And from the beginning of the program to this point, it is so rewarding to see how much our students have learned and how much confidence they have gained in their skills."
Contreras added that each Extrication Day opens up dialogue between emergency medical technicians and paramedic students who might otherwise never cross paths.
"A big focus on Extrication Day goes to making sure our students understand that EMS is a team effort," she said. "Whether you're fire, police or EMS, you must work with everyone to get the job done. So this helps them build a network."
With teamwork being a top priority, TSTC receives help from local first responders across the Rio Grande Valley to bring a drill of this magnitude to life.
Participants included the TSTC Police Department, the city of Brownsville Fire Department, South Texas Emergency Care, and South Texas AirMed, which landed its helicopter for the event.
"We are so thankful for the amount of help and support we receive each Extrication Day," said Contreras. "Our health care partners always help make this successful for our program and students."
Contreras said drills like this give her students real-world experience so they are better prepared to enter the field.
"This event brings everything full circle for our classes," she said. "It's a culmination of everything our students have learned, from theory to technical, hands-on training."
TSTC's EMT and paramedic programs are currently accepting applications for Spring and Summer 2020 semesters. Information sessions are held every Tuesday on campus.
EMS is also offered at TSTC's Abilene and Brownwood campuses.
For more information, visit https://tstc.edu/programs/EmergencyMedicalServices.