(ABILENE, Texas) – Carly Kahl, senior history instructor and assistant department chair for General Education at Texas State Technical College, was recently recognized for her exceptional service to TSTC with the W.R. Potter Award of Teaching Excellence during the college's Employee Appreciation Day.
The Potter Award was established in 1996 to recognize outstanding teaching at TSTC's four West Texas campuses. Only one winner is selected each year.
"Carly is a servant-leader who always works to support the core values of TSTC: excellence, accountability, service and integrity. She challenges her students to not just get by, but to do the very best work possible," TSTC Provost Rick Denbow said.
Kahl, a native of Andrews, Texas, said she was trying to figure out who the winner was as the announcements began and was surprised when she realized it was her.
"I was utterly shocked. I was not anticipating it at all. I started to cry when I walked up to receive it because it's such an honor," Kahl said.
With over 11 years of service to TSTC, Kahl has held various roles in the college but always knew teaching was her calling. She started her career as a technical writer, moved to curriculum design, then became an adjunct instructor.
Kahl became a full-time history instructor in 2014. She is now working toward her Ph.D. in history at Texas Tech University.
"For 11 years I've watched excellent faculty be recognized for their hard work, and every time the winner has been so deserving. It always encouraged me to want to meet that standard as well as they did," Kahl said.
Receiving the award was even more special for Kahl because her son, Kyle, was there to witness it.
"I convinced him last minute to go with me, and it was really great for him to get to see that all my hard work had paid off," Kahl said.
To earn the Potter Award, employees must be nominated by their co-workers with supporting letters of recommendation. The winner is selected by an independent third party.
Terra Alvarado, TSTC's director of Division Support for Development Education, said her recommendation letter was just one of many supporting Kahl.
"I was just so impressed with how much work she has put in, not just in her current role, but also with the extra work she volunteers for. She always goes one step further, and she is so reliable," Alvarado said.
Kahl said she is excited about her future with TSTC.
"I have such a great team, both local and statewide. They all really do a great job, and we collaborate to make sure the students are getting the best education. I'm excited to see what the next years bring and to keep growing," she said.
Kahl encourages her students and her peers to strive for continuous improvement and to keep learning.
For more information about TSTC, log on to tstc.edu.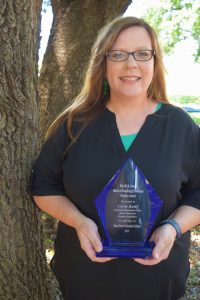 Carly Kahl received the W.R. Potter Award of Teaching Excellence for her exceptional service to Texas State Technical College.