(HARLINGEN, Texas) – After two decades of working in construction as a surveyor, Ismael Gaitan Sr. is looking forward to a new career as a graduate of Texas State Technical College's Wind Energy Technology program.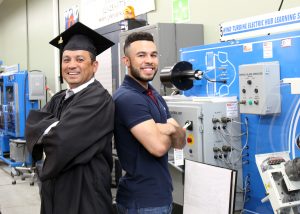 The San Benito native earned his associate degree on Friday during TSTC's Commencement Ceremonies at the Harlingen Convention Center, joining more than 300 TSTC students in Harlingen and 1,000 statewide who will graduate from the college this semester.
"From the moment I decided to enroll at TSTC, I made the choice to succeed," said the 45-year-old. "I had a lot riding on this with a family to support and counting on me. I'm excited for this new chapter."
It was while working as a surveyor for Ambiotech Civil Engineering Group in Brownsville, building substations for electric and wind companies, that Gaitan discovered wind energy and its increasing popularity.
"All of the wind turbines popping up across the Rio Grande Valley really intrigued me," he said. "So I began doing research and found that there were a number of career opportunities in wind energy and room for growth."
The realization that his son, Ismael Gaitan Jr., was also interested in wind energy motivated the pair to enroll at TSTC and enter a field that would set up both for successful careers.
Gaitan Sr. said it was all about pursuing a brighter future and finding stability.
"I wanted us both to strive for better," said Gaitan Sr. "And the rigor of the program and the training we received from our instructors and hands-on experiences really prepared us for the field."
In fact, both men have been hired by One Wind Inc. in Harlingen as wind energy technicians.
"This is a huge achievement for both of us and our family," said Gaitan Sr. "This makes all of the hard work and sacrifice worth it."
Gaitan Sr. said his college experience was made more memorable by going through the program with his son.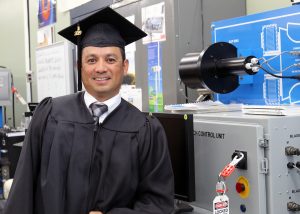 "We had a unique experience," said Gaitan Sr. "We were fortunate to have each other, even though he's all grown up and has his own friends. We were still able to learn a lot from each other and be each other's support."
Gaitan Jr. is expected to graduate next semester with an associate degree. He will complete his last required class online while working full time with his father at One Wind.
"The number of opportunities that have been presented to my father and me stemming from this program is impressive," said Gaitan Jr. "It feels great knowing that we came to TSTC to find success and have found it."
Gaitan Jr. said it was never a plan to be in college with his father, but he is glad it turned out that way.
"We motivate each other, and he has taught me so much about overcoming obstacles, taking risks and starting over," said Gaitan Jr. "He has shown me that hard work pays off, and I am proud of him and what he has been able to accomplish."
Both men look forward to working together as they begin their new careers and know that this is not the end, but a beginning to bigger and better things.
Wind electricity generation is expected to grow rapidly over the coming decade, according to the U.S. Bureau of Labor Statistics.
For more information on Wind Energy Technology, visit tstc.edu.