Vilze Gamboa didn't think college was in the books for him, but nearly eight years later he graduated from the Biomedical Equipment Technology program at Texas State Technical College in Harlingen making him the first in his family to graduate from college.
After graduating from Harlingen High School in 2011, the Harlingen native immediately enlisted in the U.S. Army.
"I was not the best in high school. I never shined," said Gamboa. "I didn't have motivation to go to college, I was undecided."
The 26-year-old enlisted in the Army and served nearly four years with a deployment to Afghanistan for nine months before returning home.
"The army was the best decision for me at the time," he said. "I got to see the world and have experiences I never would have had otherwise."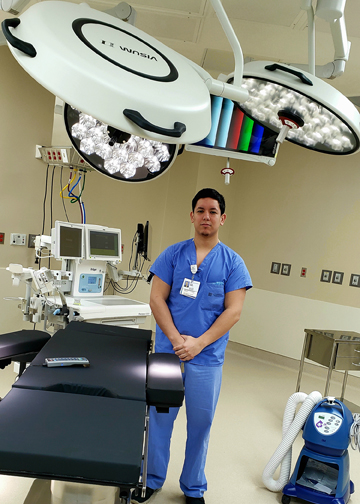 But upon returning home, Gamboa felt like something was missing and that something was a college degree.
"I had educational benefits from the army available to me," he said. "So I enrolled at TSTC, never planning on earning a degree, but that instantly changed."
Gamboa used his Hazlewood Act and G.I. Bill to pay for his education when he initially enrolled to take a few classes.
But with time spent at TSTC, the more he learned about the college, its programs and most importantly Biomedical Equipment Technology.
"I like the medical field, but being behind the scenes and repairing the technology used in the industry was more my fit," he said. "So when I was introduced to the program there was no hesitation, I enrolled immediately."
Today, Gamboa holds an associate degree in Biomedical Equipment Technology and works as a Biomedical Technician I at Baylor Scott and White Health in Temple, Texas.
He received his job offer before even graduating from his program. Today he is responsible for the repair and maintenance of operating room equipment such as surgical tables, lights, scopes, blood pressure monitors and IV pumps.
"As a student in Biomedical Technology you are immediately introduced to industry-standard equipment," said Gamboa. "We train with this equipment every day, hands-on, so by the time we start applying for internships and jobs we are more than prepared to handle the everyday challenges of a biomedical technician."
Gamboa, who is also a father of two, said he can now support his family and give them everything they need because of the great pay and benefits package he receives at Baylor Scott and White Health.
"Knowing I had this job prior to graduating, made the success of it all that much sweeter. Not too bad for a two-year degree if I say so myself," he said. "I was relieved knowing that I could now start supporting my family. And even more important, TSTC opened me up to the possibilities of continuing education. It showed me how to like school."
Gamboa hopes to continue setting a good example for his children by continuing his education.
In the near future, Gamboa hopes to attend a four-year university, while working fulltime, to earn a bachelor's degree in Business so he can pursue management opportunities.
"TSTC truly changed my life and I recommend it to everyone I encounter looking for a new opportunity or career change," he said.
In fact, even Gamboa's brother is now pursuing an associate degree in Biomedical Technology from TSTC.
"I want my kids to realize that anything is possible," said Gamboa. "They are only four and five, but I'm already having conversations with them about college, because I don't want them to wait like I did and because of TSTC I've been able to set that example."
Biomedical Equipment Technology is also offered at TSTC's campus in Waco.
For more information on the program, visit tstc.edu.