(HARLINGEN, Texas) – Precision Machining Technology at Texas State Technical College will offer evening classes starting in Spring 2020 for the first time.
TSTC Precision Machining Technology lead instructor Isaac Gonzalez said this change came about because of student and industry demand.
"This change is going to allow for more student flexibility," said Gonzalez. "There is no need for someone to have to give up an education because they have responsibilities and obligations during the day."
Starting next semester, both Precision Machining Technology certificate and associate degree plans will be 100% obtainable by taking evening courses, with classes and labs open Monday through Friday from 5:30 to 10 p.m.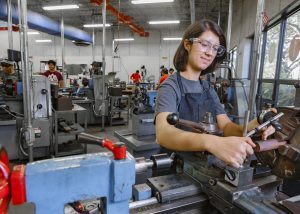 "This expansion has been in the works for about a year," said Gonzalez. "We're excited to kick it off next semester. We already have students registered and ready to take the next step toward a career."
Gonzalez added that by expanding the program's offerings, it will be able to serve and retain more students, in line with TSTC's mission of placing more Texans in great-paying jobs.
"Highly skilled and well-trained machinists are in high demand right now, regionally and statewide," said Gonzalez. "This is going to help us meet industry demand, meaning our students will be more marketable and sought-after."
The program already boasts a 98% job-placement rate, with many of its students accepting job offers before they graduate.
Many of the industry partners hiring the program's graduates are also interested in sending employees to TSTC for additional training.
"Not only will offering evening classes open doors to more students, but it also benefits our industry partners who want additional training for their employees," said Gonzalez. "They will now be able to work by day and study by night."
Gonzalez said evening classes are just the beginning for Precision Machining Technology. Starting in 2021, the program will expand to include performance-based education and online classes.
Performance-based education will give students the flexibility of choosing a schedule that fits their lifestyle and also set them up to graduate quicker.
"Evening classes, online classes and flexible schedules are all growing in popularity," said Gonzalez. "And by bringing this to our students, they will be able to begin their careers faster."
Any new student who registers for evening classes before December 6 will be eligible for a $500 Gene Haas Scholarship, and Brownsville residents who register will also be eligible for a $500 Mike Hernandez Scholarship.
Registration for Spring 2020 has begun and runs through January 10.
For more information on Precision Machining Technology, visit https://www.tstc.edu/programs/PrecisionMachiningTechnology.