(HARLINGEN, Texas) – The Texas State Technical College Campus Police in Harlingen recently made history by swearing in the college's first female lieutenant, Gloria Ruiz.
"She's a pioneer. A professional in her field and one of the greatest assets to our department," said TSTC Vice Chancellor and Chief Legal Officer and General Counsel Ray Rushing. "She's a master at taking a task that is fundamental to our department and turning it into reality."
Ruiz, who has been with TSTC for 17 years, also made history in 2004 when she was the first female promoted to police sergeant, and although she has found success at TSTC, the journey was not always easy.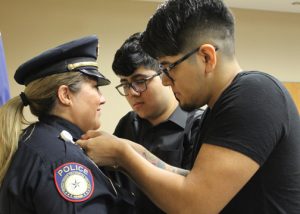 "I can't help but think how far I've come," said Ruiz. "As a high school dropout all the numbers show that I am here against all odds, but in honor of all the women who are fighting to break glass ceilings and for those who have supported and empowered me I proudly accept my new position."
She was only 19 when she began working at the Levi's Manufacturing Co. in Harlingen and said she dreaded going to work.
Then at 23-years-old she lost her first child, Gloria Ann, to a freak accident. By 26, she had her second child, a failing marriage and no high school diploma.
"This was when I realized I needed to get my general education diploma (GED)," said Ruiz. "I was 32-years-old, but I wanted hope of a better future."
At 35, Ruiz attended night classes at the police academy to fulfill her dream of becoming an officer and worked 40 to 50 hours a week as a security officer for the San Benito Consolidated Independent School District.
"This was a huge sacrifice for me and my kids, but look at me now," said Ruiz proudly. "I was one of the oldest cadets in the academy and one of only a couple of women, but I never let that stop me. Now I get to serve and protect our campus and community and even give students advice, hope and inspiration."
Not only is Ruiz celebrating her promotion, but she also recently completed her academic core at TSTC to begin working toward an associate degree in Criminal Justice.
Taking his place as TSTC Campus Police sergeant is Eduardo Becerra. He was also recently sworn into his new position.
Becerra has been with TSTC for six years, this being his first promotion within the department.
"I'm both excited and nervous for this promotion," he said. "I've wanted to be a police officer since I was about seven or eight years old and now I get to protect and serve my community. It's a great deal of responsibility, but I'm proud that my hard work was recognized and that Chief Eduardo Patino has confidence in my knowledge and experience. This will help me perform to the best of my ability."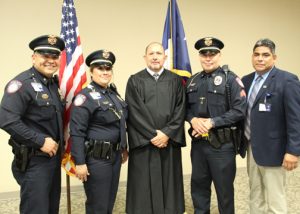 Becerra, who as sergeant now oversees nearly 10 people within the department, served three years in the United States Army and a one-year tour in Iraq before returning to his home in Brownsville.
Once home and taking time for himself and his transition back into civilian life, Becerra enrolled in the Lower Rio Grande Valley Development Council Police Academy at TSTC.
As a cadet in the academy he worked security for TSTC events, which was when Patino noticed his commitment to the field and hard work.
"By this time I was more than ready for a new career and I'm glad that TSTC gave me a chance," he said. "My experience at this college has been amazing, we're like one big family, and I'm proud that I get to protect my "family" every day while doing what I love."
He added that he looks forward to training and preparing his officers to perform their duties without hesitation while using TSTC's core values of excellence, accountability, service and integrity as a guide.
Both Ruiz and Becerra said they credit their success to TSTC Police Commissioner Aurelio Torres, Patino and their families.
"My family has been with me every step of the way and them believing in me and being proud of me has made all of the difference," said Becerra.
Sentiments echoed by Ruiz.
"What I have achieved could not have been done without the support and love of my family. Everything I've done has been for my boys and to do my best for them every single day," said Ruiz. "And also, I owe a lot to my mentor, teacher and friend Commissioner Torres for taking me under his wing."
Ruiz added that TSTC is promoted as a great place to work, but for someone like her, who actually looks forward to coming to work now, it's so much more than just a line or hashtag, it's a promise and a dream come true.
To find job opportunities at TSTC or to apply, visit tstc.jobs.