By Amanda Sotelo
(HARLINGEN, Texas) – A Texas Workforce Commission grant will allow Texas State Technical College and Mueller Co. at its Brownsville location to advance the technical skills of more than 80 Mueller Co. employees through workforce training provided by TSTC.
Bryan Daniel, TWC's chairman and commissioner representing the public, on Wednesday presented both organizations with a Skills Development Fund grant in the amount of $107,705.
"TSTC is at the forefront of employer and student success," said TSTC Provost Cledia Hernandez. "It's a privilege and honor to be part of transforming a major segment in our local manufacturing."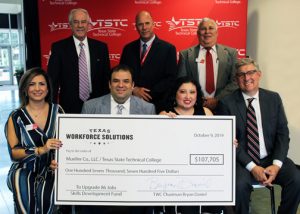 The training for Mueller Co. employees began earlier this month. It is administered by TSTC Workforce Training and Continuing Education at the Mueller site and includes Occupational Safety and Health Administration 10-hour safety training, as well as courses in basic math, basic machining, troubleshooting of electrical and motor systems, introduction to Microsoft Excel, pneumatics and hydraulics.
Sergio Marroquin, manufacturing manager at Mueller Co., said TSTC's ability to provide the technical training they require to meet their company's goals encouraged the partnership.
"TSTC knows and understands the fundamentals and advances in technical training," said Marroquin. "We know that TSTC makes things happen, and over the next year our employees will receive the training they need to achieve success within our company."
Daniel views Skills Development Fund grants as an investment back into the community.
"These grants allow employers to help their employees advance their skills and opportunities," he said. "These trainings can help lead an employee to an increased salary or promotion, which in turn strengthens our communities."
He added that having the opportunity to partner with top-notch institutions like TSTC ensures that every partnership's needs will be met and training will continue for generations to come.
Over the next year, Marroquin said they will work closely with TSTC in growing this newly formed partnership.
"We look forward to growing with TSTC and building upon the customized training we've created," he said. "We will continue to advance the skills of our employees, and with TSTC's help we will stay up to date on all of the latest advances in technical skills training."
Based in Tennessee, Mueller Co. manufactures fire hydrants, gate valves and other water distribution products.
For more information on the services provided by TSTC Workforce Training and Continuing Education, visit https://tstc.edu/workforce/home.