(HARLINGEN, Texas) –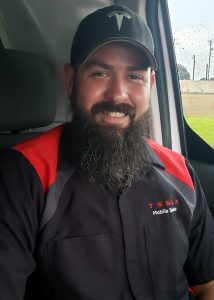 John Moody is an Automotive Technology graduate from Texas State Technical College. He earned his associate degree in 2012 and since then has had a successful career in industry.
The 37-year-old, San Benito native, said vehicle maintenance and repairs has been his life. As a child he would assist his late father at his automotive shop and knew it was a career he wanted to pursue.
Moody currently works with Tesla as a mobile technician traveling much of the state.
What was your reaction when you first learned about your job offer?
Before Tesla I worked for nearly seven years with Gillman Honda in San Benito. That was my first job out of college and I was relieved and excited to begin my career. Although I had automotive experience, without a formal education or degree it was impossible to get hired. After graduating it didn't take me long to find a job and it's only getting better. Recently I received a great opportunity from Tesla and made the switch.
How did TSTC prepare you for your career?
While the hands-on training was invaluable and I learned so many new techniques and processes, what really helped prepare me for my career were my instructors and their genuine care for our success. They always ensured one-on-one time with us to fully explain lessons and to be certain that we understood. Their experience and their sharing made all of the difference for me.
What has had the greatest influence on your success?
My wife and my family have been my greatest influence. They have supported me every step of the way. Everything I do is for them. To give them a better life and make sure they always have the best, which is what they deserve.
What are your future goals?
My goal is to grow within Tesla and eventually become a manager. The company has many growth opportunities and I hope to gain the experience I need to keep moving up. Also, someday, I would love it if I could follow in my father's footsteps and open an automotive shop of my own and keep with my father's legacy.
What would you tell a student thinking of pursuing a two-year degree vs. a four-year degree?
I would tell a student that a two-year degree offers great opportunity and advancement. It's affordable and a quicker way of entering the workforce and earning, especially for someone like me who had a family to support. I always knew a two-year degree was a perfect match for me.
What is your advice for future TSTC students?
I'm not going to lie; getting an education is tough. It's hard work, but it's possible. You have to stick with your goals and continue pushing forward. There's a finish line, I promise, even you can't see it.