(HARLINGEN, Texas) –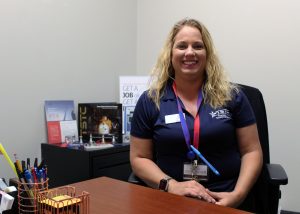 Stephanie Garcia graduated from Texas State Technical College in Fall 2018 with an associate degree in Business Management Technology.
After working as a student worker at TSTC's Veterans Center and as a student mentor, the 36-year-old knew that she wanted to make the higher education her career.
So not long after graduating, she accepted an offer as a TSTC student recruitment representative, where she is currently employed.
What was your reaction when you first learned about your job offer?
I was so excited when I found out that I had been offered this job; so were my husband and family. I really wanted it after realizing how rewarding it is to help students achieve their dreams. Plus, I love sharing my experiences with them.
How did TSTC prepare you for your career?
TSTC prepared me for my career in more ways than one. My classes taught me the foundation and technical skills I needed to get my career started, and working as a student worker taught me soft skills such as leadership and customer service, which in turn gave me the experience and confidence I need for my current position.
Who has had the greatest influence on your success?
My husband has had the greatest influence on my success. He has been with me every step of the way. And he is the one who made it possible for me to return to school and graduate.
What are your future goals?
I don't plan on leaving TSTC anytime soon. If anything, I hope to grow within the college and continue helping students realize their dreams of a college education. As a recruiter I hope to be a positive face for the college and teach about the importance and benefits of a technical education.
What would you tell a student thinking of pursuing a two-year degree vs. a four-year degree?
Speaking from experience, a two-year degree gives a real-world, hands-on experience that a student doesn't always get when pursuing a four-year degree. And here at TSTC, our two-year degrees give students the training they need to obtain the skills that industry is demanding. This gives a graduate a leg-up and makes them more marketable when competing for jobs. A two-year degree at TSTC is the way to go; we have industry knocking at our door recruiting our students.
What is your advice for future TSTC students?
First, it's important to find a program you're passionate about and going to love. Next, get involved on campus; become a work study, or student worker and join a club. Also, take advantage of the services and resources TSTC offers because from registration to job placement, TSTC is there to support the student the entire way and finally, don't give up, no matter how challenging or hard it gets. It's worth it.