(HARLINGEN, Texas) – Texas State Technical College Board of Regents honor graduates are recognized every semester for maintaining perfect grade-point averages.
Recently 10 of these students attended a dinner hosted in their honor by the TSTC Board of Regents at the college's Cultural Arts Center in Harlingen and were awarded medallions to commemorate their outstanding achievement.
They were joined by their families along with TSTC faculty and leadership, including Provost Cledia Hernandez, Vice Chancellors Rick Herrera and Ray Rushing, and Board of Regents member Alejandro "Alex" Meade III, who also serves as Pharr's city manager.
"You have burned the midnight oil to be where you are," said Hernandez. "But so have your families, so I congratulation everyone."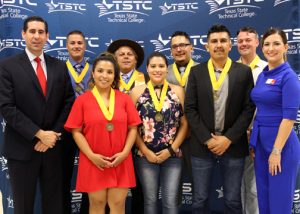 Among the students was Building Construction Technology graduate Emmanuel Cantu, 30, who said it took a lot of sacrifice and time management to maintain his high grades.
"I had to choose homework and studying over everything else," he said. "It was about going to a family barbecue but being the only one with a laptop or book studying. But it was all worth it, and I'm excited for what's ahead."
Cantu, also a former Marine, worked in construction while serving, which inspired his career choice.
"Choosing a career was easy; it's been the transition to civilian life that's been challenging," said Cantu. "But with my experience and the training I received at TSTC, I'll be starting a new chapter in my life really soon."
The Brownsville native has been hired by a construction firm in his hometown.
Also part of the elite group was Katrina Esquivel. A mother of two, she earned a certificate as a dental assistant.
"As soon as I saw I got all A's my first semester, I made it my goal to continue getting A's," said the 25-year-old. "And this medal is proof of my accomplishment. I really wanted to show my kids that anything is possible."
Esquivel said her family has been supportive throughout her journey and made her feel like she can accomplish anything. And with their continued support, she hopes to return to TSTC for an associate degree in Dental Hygiene.
In his remarks to the attendees, Meade said he was proud of all the work that had to be done to earn perfect GPAs.
"The success that you have earned has a great impact on you and our region," said Meade. "It is you, the skilled workforce that companies look for when they consider opening in the Valley. And it's your technical skill set that you have received here at TSTC that sets you apart."
The other Board of Regents honor graduates celebrated at the event were Emilio Acosta, Charles Colelli, Dylan Ehrlich, Janelly Garcia, Jeromy Jeffries, Hector Lima, Melchor Rivas and Gabriela Rivera.
The honor graduates received further recognition at Friday's Commencement Ceremonies at the Harlingen Convention Center.
Registration for Summer and Fall 2019 is currently in progress.
For more information on TSTC and the programs it offers, visit tstc.edu.