(BROWNWOOD, Texas) – Sometimes all a person needs is a second chance.
Katherin "Leif" Brown, a Texas State Technical College Computer Networking and Systems Administration student, will proudly represent Texas and TSTC in the Telecommunications Cabling competition at the SkillsUSA National Leadership and Skills Conference in Louisville, Kentucky, on June 24-28.
Undaunted by a health condition, Brown competed at the state-level SkillsUSA Postsecondary Leadership and Skills Conference two years in a row. She finally earned a spot at nationals on her second try.
"When I found out I was going to nationals, I was shocked and then surprised and then like, is this really happening?" Brown said.
SkillsUSA is a partnership of students, teachers and industry working together to ensure that America has a skilled workforce. More than 18,000 people, including students, teachers and business partners, are expected to participate in the national event.
Last year, just before Brown was set to compete for the first time, she was diagnosed with Addison's disease.
According to the Mayo Clinic, Addison's disease is caused by insufficient production of certain hormones.
"I have to be careful and really listen to my body. I can't get too stressed. But if this has taught me anything, it's that I'm strong enough to do anything," Brown said.
Despite the challenges she overcomes daily, Brown is working hard to represent TSTC well at SkillsUSA.
"It's something I have really enjoyed doing, and I feel it's really helped me," Brown said. "This is a job skill that will come into play in the real world, so this is extra practice at it."
One person helping Brown to prepare is Computer Networking and Systems Administration instructor and SkillsUSA advisor Renee Blackshear.
"SkillsUSA helps open doors and serves to motivate students to put forth their best efforts and demonstrate their individual abilities to help close the skills gap," Blackshear said. "Katherin has been an active member of our SkillsUSA team, and we look forward to supporting her in her preparations for nationals."
Brown hopes to encourage others not only to be vigilant in their personal health, but also to pursue their passions.
"Don't let anything stop you. Just pick yourself up and keep going," Brown said.
For more information about TSTC, go to www.tstc.edu.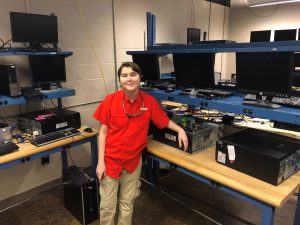 Katherin "Leif" Brown will represent the state of Texas and TSTC at the 2019 National Leadership and Skills Conference. She will compete in Telecommunications Cabling.