With complex surgeries on the rise and an increase in advancing robotic procedures and surgeries, the need for highly-skilled surgical technologists is on the rise and Texas State Technical College is working to fill that demand with its Surgical Technology program.
TSTC Surgical Technology Program Director and Master Instructor Robert Sanchez said the program's faculty works and focuses on hands-on training, which prepares its students for an industry that is fast-paced with stressful environments.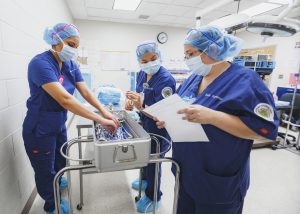 "The more hands-on training our students receive the more prepared they are when they enter an operating room," he said. "And it's this readiness and skill that employers look for, and that's why our graduates are sought after."
TSTC Surgical Technology is the only surgical program south of Corpus Christi and has a 100% job placement rate.
What is the length of the program?
Surgical Technology is six-semester long, or two-year program. During the first three semesters, students complete program prerequisites. It is during the third semester that a student can apply for the Surgical Technology program, and if accepted, will have three more semesters before earning an associate degree.
What can students expect when they graduate?
A graduate from the program will only be able to work as a certified surgical technologist upon passing the Certified Surgical Technologist examination. After passing the exam, graduates can obtain jobs at places such as hospital operating rooms and day surgery centers.
What skills do students learn in Surgical Technology?
In the program students will learn numerous skills such as how to properly scrub in for surgery, sterilize medical equipment, keep an organized inventory of equipment for the surgeon, wash and disinfect incision sites, pass equipment to a surgeon, ensure that no objects are retained in patients and keep a sterile environment to prevent patient infection.
What types of technologies are used to learn these skills?
Students in the program have access to two fully-equipped mock surgery rooms and scrub-in area. They also have industry standard surgery equipment, laparoscopic training modules and mannequins to practice incision and suturing techniques.
How do these skills prepare a student for the workforce?
With a focus on hands-on training, students become familiar and know what to expect when they enter the workforce. In addition to hands-on classroom training, Surgical Technology students also complete clinical rotations at local hospitals and surgery centers where they work on actual surgical cases under observation. Many of the students' skills are recognized during clinical rotations and most students are offered a position even before graduating.
What types of positions can a graduate from this program obtain?
Graduates from the program can work as a certified surgical technologist, but can grow in the medical field after several years and work toward becoming surgical first assistant, certified registered nurse anesthetist or physician assistant.
Area hospitals that have hired TSTC Surgical Technology graduates include Valley Baptist Medical Center, Harlingen Medical Center, Doctors Hospital at Renaissance, McAllen Medical Center and Edinburg Regional Medical Center.
Students have also been placed across the state in San Antonio, Houston, Austin and Dallas area hospitals.