(HARLINGEN, Texas) – Thinking about a career in education? Texas is third in the nation in employment for hiring paraprofessionals, and Texas State Technical College is working to meet the demand with its Education and Training program.
According to the U.S. Bureau of Labor Statistics, there will be more than 55,000 jobs nationally through 2028, with growth being affected by rising student enrollment.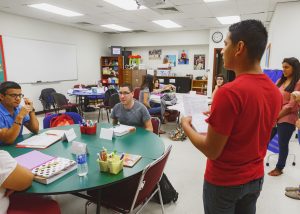 "The number of schools, especially charter schools that are opening up, is large," said Myriam Aguila, TSTC Education and Training department chair. "This growth increases the number of job opportunities and options for our graduates."
Aguila went on to explain how Education and Training prepares students for a career in the education field.
"We receive a lot of positive feedback from teachers who our students work with about their commitment, enthusiasm, creativity and preparedness," she said. "This says a lot about what they learn during their time in our program."
What is the length of the program?
Education and Training offers two pathways. A student can earn a certificate in four semesters or an associate degree in five semesters.
What can students expect when they graduate?
Students in the program will graduate with, on average, 500 hours of experience in the field. With this type of immersion, graduates are well trained and prepared to manage the everyday duties of a classroom. Many of these graduates are hired before they even graduate at Head Start campuses or elementary schools where they are completing their apprenticeships.
What skills do students learn in Education and Training?
In this program, students will receive specialized training in early childhood development, bilingual education, general education and special education, and will learn about instructional practices and effective learning environments, child growth and development.
They will also receive hands-on training by creating and developing instructional materials and by completing a practicum, which gives students field experience at local school district classrooms.
What types of technologies are used to learn these skills?
Education and Training students have access to classrooms and labs equipped with the necessary classroom tools such as paper rolls, cutters, laminating and binding machines, poster printers, and supplies such as crayons, markers and craft scissors.
They also focus on technology in the classroom that helps push science, technology, engineering and math (STEM) education, so they also have tablets that they use as learning and teaching tools, a green screen and a three-dimensional printer.
How do these skills prepare a student for the workforce?
With more than 50% of a student's training focused on technical, hands-on learning, they are prepared and confident to lead a classroom. They enter the workforce familiar with what to expect, great knowledge, a well-rounded skill set and are ready to work.
What types of positions can a graduate from this program obtain?
Students who successfully complete the program can immediately begin their careers as paraprofessionals.
Graduates from this program have been hired by local school districts such as Harlingen Consolidated Independent School District, NINOS Head Start and local day care centers.