(HARLINGEN, Texas) – In a new partnership, American Legion Auxiliary Unit 205 recently presented Texas State Technical College with a check for veteran student scholarships.
The check, in the amount of $1,000, is the first donation in what will become an annual gift for the college and its veteran population.
"We have seen, first-hand, the need our veterans have when they return from the military," said Linda Correa Garcia, American Legion Auxiliary Unit 205 vice president-elect. "This is our way of giving back to the men and women who have given us so much."
Every year, the American Legion Auxiliary Unit 205, hosts a large fundraiser to raise funds for scholarships and other causes that benefit veterans and their families.
And after a meeting with The TSTC Foundation and TSTC Veteran Center Director Steve Guevara, and seeing the resources provided to students by the center, Garcia and American Legion Auxiliary Unit 205 President-elect Elizabeth Tamayo, were compelled to use a portion of the funds raised for scholarships.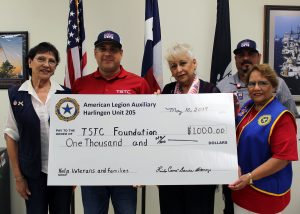 "Our goal is to give our veterans the chance at a better life," said Tamayo. "To give them the opportunity of returning to school and obtaining a new career."
The funds from this donation will be used for two scholarships in the amount of $500, which can be used toward tuition, books, supplies or room and board.
All veterans enrolled at least part-time with a 2.5 grade-point average or higher are eligible to apply for the scholarship.
A committee made up of TSTC employees, who are also veterans, will review the applications and essays to select the recipients of the scholarships.
Guevara said this newly-formed partnership with the American Legion Auxiliary is great and serves as a way to provide veterans with a resource for information on educational benefits.
"Donations like these really make a large impact in the lives of our veterans," said Guevara. "Unfortunately, many veterans struggle when they return, so this allows them to make a new transition."
He added that a large portion of the veteran population at TSTC are non-traditional students with families to support, so any assistance makes a difference for their families as well.
This is why Garcia and Tamayo are also using this first donation as a way to challenge other American Legion units and posts to also donate toward TSTC veteran scholarships.
"We are spread out throughout the Valley, from Port Isabel to Mission and we want to challenge other units to contribute to TSTC veteran scholarships and match what we've donated," said Garcia. "If they are unable to match, at least contribute to a veteran's education."
Guevara said he sees this partnership growing in the future and with this growth the possibility of helping more veterans.
"With the support of Unit 205 and the challenge they have posed to others, I can see this growing," said Guevara. "We appreciate all of the help American Legion Auxiliary is giving our students and we look forward to helping more veterans accomplish their dreams."
TSTC in Harlingen has been recognized as a Military-Friendly School for eight straight years, and the college has been recognized statewide as a Military-Friendly School for four years.
The TSTC Veterans Center serves as a centralized, one-stop shop for prospective and current students who are veterans, as well as their dependents. The center assists with admission, financial aid, GI Bill and Hazlewood applications. There is also a variety of services, such as internal and external referrals, that can benefit veteran students.
In addition to the Veterans Center, TSTC also offers self-paced, competency-based learning for veterans who have gained applicable skills through their service in the military. Veterans can receive credit for these skills to move ahead on their certificate or degree plan quicker.
For more information on the Veterans Center, call 956-364-4387 or visit tstc.edu/veterans.