(HARLINGEN, Texas) – Alyssa Parker spoke about overcoming her struggles and getting a second chance in her speech as salutatorian of the Texas State Technical College Vocational Nursing class of Fall 2019.
She spread her message during the program's Vocational Pinning Ceremony hosted Thursday night at the TSTC Cultural Arts Center.
"Trust yourself, have confidence in yourself, and push yourself through the bumps in the road. Because you can come back stronger," she said. "I am proof."
This is the Harlingen native's second time around in the Vocational Nursing program, having missed the mark the first time by only a tenth of a point.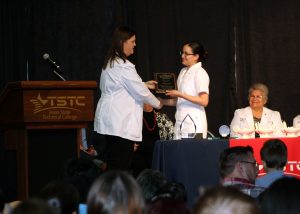 "We were struggling to make ends meet, and I was working a lot," said the 24-year-old. "It was hard to juggle everything and keep up with studying. But we're in a different place now, and my significant other was able to take the responsibility of being the sole provider so I could keep my dream of becoming a nurse."
Her dream is now a reality.
She will graduate from the Vocational Nursing program next Friday, but she has already accepted a position with the Neuro Med-Surg unit at Valley Baptist Medical Center, where she has previously worked as a certified nursing assistant.
"It is all so surreal. I never expected any of this to happen," said Parker. "And I'm so thankful to my family, friends and instructors who made it all possible. It was a challenge, but they helped me overcome it."
Sharing her sentiment was class valedictorian Sabrina Garza.
"It's an honor being able to represent my class as valedictorian," said the 21-year-old. "It's been a lot of missed family time, studying and discipline. But it's finally time to turn the page to a new chapter."
Like Parker, Garza has dreamed of becoming a nurse since childhood, having grown up around aunts and cousins who are in the profession.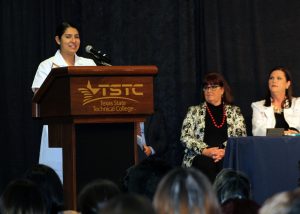 "This pin is a symbol of our hard work. It shows that everything we've done has paid off," said Garza. "It's a great feeling, and I thank my family, instructors and God for making all of this possible."
The pin that Parker, Garza and their 18 classmates received, along with the capping and candlelighting ceremony, symbolizes the passing of knowledge. It a rite of passage into nursing and stems from a tradition set by Florence Nightingale, a trailblazing figure in the profession and the founder of modern-day nursing.
The ceremony also included a blessing of the hands and benediction led by Pastor Danny Anderson of the Bridge-Rio Hondo Baptist Church.
"Our students work hard to get to this day," said TSTC Vocational Nursing director Heather Sauceda. "Today marks the beginning of a new chapter for them, and we are very proud of them."
As for Parker and Garza, they both plan on returning to TSTC to pursue an associate degree in registered nursing.
These 18 students will earn certificates in Vocational Nursing on December 13 during TSTC's Commencement ceremonies at the Harlingen Convention Center.
The Vocational Nursing pinning ceremony is held twice a year during the Summer and Fall semesters.
For more information on the program, visit https://tstc.edu/programs/Nursing.