(ROSENBERG, Texas) – United States Sen. Ted Cruz toured Texas State Technical College in Fort Bend County recently after announcing new legislation that will benefit students who pursue a technical education.
Cruz introduced the special legislation cited as the "Education Freedom Scholarships and Opportunity Act" to TSTC leadership and Fort Bend County industry leaders.
The act establishes tax credits to encourage individual and corporate taxpayers to make scholarship contributions to workforce training organizations, like TSTC.
Contributions can provide students with scholarships for secondary or postsecondary vocational education and training, including preparation and examination costs relating to certificates or credentials, or industry recognized certification or credentialing programs.
Chancellor Mike Reeser said 60 percent of the jobs in Texas require some kind of education beyond high school and half of those require only a certificate or two-year degree like the ones offered at TSTC.
"The beauty of hosting you (Cruz) today is the great impact this new bill can have for these students seeking these opportunities," said Reeser. "A lot of families struggle to pay for college and having the opportunity to increase the amounts of scholarships for families is absolutely crucial to us expanding the availability of a skilled workforce."
After the announcement, Cruz toured the campus and visited technical programs – Electrical Lineworker Technology, Diesel Equipment Technology and Robotics Technology – in the Industrial Technology Center and Brazos Center.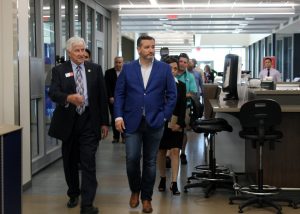 University.com ranks TSTC's Electrical Lineworker Technology program as best in the state.
He spoke one-on-one with program instructors and students during the tour to get an inside look into the type of skills training TSTC is providing.
TSTC, a leader in technical education statewide, offers more than 60 technical programs of study. And because of its legislative mission, the college has focused its resources and efforts on technical education and emerging technology, and filling the skills gap that exists statewide.
"TSTC is doing a great job at training students to ensure that they can support their families and stand on their own," said Cruz. "Walking through campus and hearing that employers are knocking on their doors asking for graduates and that they're earning high-earning careers is impressive."
After the tour, Cruz sat down with TSTC leadership, TSTC Robotics Technology student Joshua Schott, Electrical Lineworker Technology student Isaac Hughes, and industry leaders such as ExxonMobil, Schlumberger, CenterPoint Energy, Houston Area Safety Council and the George Foundation for a roundtable.
Cruz praised TSTC for the training the college is providing industry in the region. TSTC currently serves more than 500 students, but is expected to grow enrollment to 5,000 within the next decade.
Cruz also thanked TSTC for giving men and women the critical skills needed to achieve successful careers and expanding educational opportunities for Texas and its residents.
"I'm a fan of technical education and if this legislation is passed this could truly be transformational," said Cruz. "And it will take time to pass, but once we build a broader coalition and support, this bill it will be a win-win for everyone."