(HARLINGEN, Texas) – It has been nearly 40 years since Robert Sanchez stepped foot on a Texas State Technical College campus for the first time, and now he is moving onward with a new chapter in his life: retirement.
The 70-year-old and his dedication to the college and its Surgical Technology students were recently celebrated with a surprise party at the TSTC Cultural Arts Center and with a scholarship in his name. The Robert Sanchez Scholarship Fund will now award scholarships to Surgical Technology students annually.
TSTC faculty, staff, students, alumni and some area hospital representatives were in attendance.
"All of this was definitely a surprise, even though someone spilled the beans," said Sanchez. "I'm not big on surprises or parties, but I'm honored that my team felt that I deserved this type of recognition."
In September 1981 Sanchez became a Surgical Technology instructor at TSTC. He put pen to paper to plan out curriculums and lesson plans since personal computers were a thing of the future.
"We were still using encyclopedias when I joined the TSTC team," Sanchez remembered. "It's amazing to see how far we've come."
In 1969 Sanchez was part of one of the first surgical technologist programs in the Rio Grande Valley at Valley Baptist Medical Center in Harlingen.
He was one of three who graduated from the program and one of only a handful who worked as certified surgical technologists in the area.
After not being accepted into TSTC's Surgical Technology program in 1976, Sanchez joined the U.S. Army Reserve and went on to earn an associate degree in nursing in 1978 and a bachelor's degree in nursing in 1989.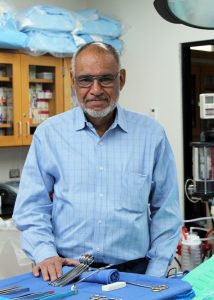 "Little did I know I would still dedicate my career to TSTC and to training new generations of surgical technologists," said Sanchez.
Sanchez served as a Surgical Technology instructor from 1981 to 1996, when he took over as department chair.
Sanchez was always known as a strict instructor — he said some might even have called him mean, but he said it was all to better prepare them for the job.
"Working in any medical profession is stressful, but imagine being in the operating room," he said. "Stressors come from everywhere, and a great surgical technologist will be able to work through these stressors. That's what I strived to instill in (my students)."
In fact, many of the faculty and staff working in the TSTC Surgical Technology department today are alumni of the program and had Sanchez as an instructor.
One of them is Anna San Pedro, a current Surgical Technology senior instructor who worked with Sanchez for more than two decades and will replace him as program director.
"I was 18 years old when I first met Robert. I was his student and, yes, he was very demanding of his students," she remembers. "But I later realized he did everything for a reason. He was shaping us and preparing us for the rigors of the operating room. And everyone can agree that he influenced our careers and the leaders we turned out to be."
San Pedro added that it has been difficult for her to accept Sanchez's retirement because he has been her most treasured mentor and confidant for so many years.
"It's sad to see him go, but it's also exciting when I think about this new opportunity," said San Pedro. "I wonder what it will be like without him. But I'm also confident that we can continue making this program the best it can be because of everything he has taught us."
Sanchez said his retirement is a bittersweet moment. He will miss his students and watching them grow into the best surgical technologists they can be.
"I'm leaving this program and my students in great hands. I'm not worried about it," he said. "But I will miss teaching and advising, and most of all the camaraderie of my staff. This career has been so rewarding."
But Sanchez knows that time goes by fast and the future is unknown, so he's ready to enjoy retirement, his family and traveling.
"This is my time. I'm at a perfect spot to retire," said Sanchez. "I'm ready to live my life and spend it with my family, especially my grandkids and great-grandkids."
Sanchez said he will also keep busy by working two days a week at Valley Baptist Medical Center, where he has also worked for the last 52 years, in a nursing circulating role preparing patients for surgery. He will also volunteer at the Harlingen VA Clinic.
"TSTC gave me the ability to teach, to share my passion, and to build such a great program for future surgical technologists," said Sanchez. "I want to thank everyone who has worked with me and supported my endeavors — especially my students, who have gone on to be successful but always remember where they started."