(HARLINGEN, Texas) – The transition from high school to college can be challenging.
For Texas State Technical College student Ruben Rodriguez, the transition also led to anxiety about not having enough to eat.
But TSTC was there to alleviate the stress until he could get back on his feet.
"My first semester at TSTC was a huge adjustment," said the 20-year-old. "I came from a high school where I could get free meals, and that changed in college."
The Harlingen native said he would find himself without money to purchase a proper meal.
"From class to studying in the library, the days are long sometimes in college," he said. "And I would find myself trying to concentrate over a growling stomach."
With no job and little money, often Rodriguez would go all day without a meal. Then a classmate informed him about the TSTC student food pantry.
"He came to the library where I was studying to offer me a granola bar," Rodriguez remembers. "And he started telling me about the food pantry, where he got these granola bars. After that I decided to check it out."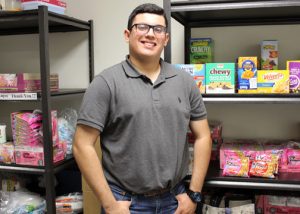 Rodriguez said that throughout his first semester most of his meals came from the pantry, which helped him get through his day.
"Without the food pantry, I don't think I could have remained focused in class or on my studying," Rodriguez admitted. "I'm so thankful that TSTC offers this type of service for its students. It makes all the difference."
During one of his visits to the pantry, Rodriguez expressed his interest in working with TSTC Student Life and Engagement.
After getting hired as a student worker, things changed for him.
"TSTC helped me get through a difficult transition and helped me get on my feet," said Rodriguez. "For that I am forever grateful."
The food pantry is stocked and maintained by monetary and food donations made by TSTC faculty, staff, students and the community.
In an effort to keep it fully stocked, especially during times when food insecurity is at its highest among college students, TSTC created an employee giving campaign.
According to studies produced by the Hope Center for College, Community and Justice, an estimated 48% of college students are food insecure.
TSTC employees participating in the giving campaign can contribute to the Stephen & Susan Snyder Helping Hands Scholarship and to scholarship funds.
The TSTC food pantry and housing and emergency aid fall under the auspices of Helping Hands.
"Contributions made by TSTC employees that go to provide emergency aid give students immediate financial assistance when the need arises," said TSTC Director of Stewardship and Donor Relations Jennifer Colten. "When hardships happen, we want to be there for our students, and we don't want students like Ruben worrying about where their next meal will come from."
Rodriguez said he is thankful for the help TSTC has given him.
"Thank you to those who have contributed and made a difference in our lives as students," he said. "And because of it, it gave me a chance to help others as a student worker, and hopefully make their day and lives a bit better too."