(HARLINGEN, Texas) – At a young age Carlos Rodriguez gained a love and passion for traveling, and now at 24-years-old, he will get to do a lot of it because of his new career.
The San Benito native will graduate with a certificate from Texas State Technical College's Aircraft Airframe Technology program in August and with an associate degree in December.
But before even walking the Harlingen Convention Center stage to accept his certification and degree, he has accepted a job offer with Koenig & Bauer, a German printing press manufacturer known as the oldest in the world still in service, with a location in Dallas.
His first day of work is January 6, 2020.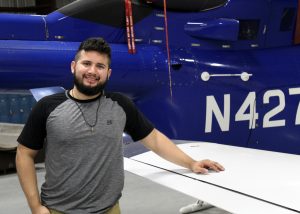 "I went into this expecting to begin my career working on aircraft. That's why I returned to school," he said. "But in learning the broader scope of everything this program teaches and keeping an open mind, I realized I can pursue any career I want, even out of the aviation industry."
Expecting a starting salary of about $50,000 a year, the United State Navy veteran, who specialized in aircraft repair and maintenance while serving his country, will soon be working as a printing press service technician.
He will troubleshoot and repair printing presses as a mechanic technician apprentice. After a three-month training period, which includes travel across the United States, he will leave the country to be stationed in Germany.
"Everything that is happening is because of TSTC," said Rodriguez. "If not for this program and its remarkable instructors I would not have had this opportunity. I received a job offer that I could not refuse and financial security. It's true, education is power."
This is a lesson he recently learned after withdrawing from TSTC twice before enrolling as a student in Aircraft Airframe Technology.
"I was lost, undecided and had no idea what I wanted to do with my life," he said. "That's why I turned to the military."
After four years of service and deployments to Asia and the Middle East and getting to see a part of the world, Rodriguez returned home.
He said the transition from military to civilian life was not the easiest, but after a stint with United Airlines and FedEx, and seeing no personal growth, it was the TSTC Veterans Center that helped him get back on track.
"I learned about my program through some guys at work and I saw them advancing," said Rodriguez. "I was always a guy with so much ambition and I lost it somewhere. So after some reflection, college was my only choice. And it was the Veterans Center that helped me complete my paperwork and discover that I was eligible for my G.I. Bill, Hazlewood Act and federal financial aid to help me pay for college."
Rodriguez said he comes from a humble background. His dad was born in Mexico and worked in the fields for most of his life. Neither of his parents had an education, until TSTC also helped them prosper.
Rodriguez's father is a graduate from TSTC's Heating, Ventilation and Air Conditioning (HVAC) program and now works as an HVAC technical for the Gladys Porter Zoo in Brownsville.
"My parents have worked hard for their family, and through good and bad times, they have continued to sacrifice and do what's best for me and my brother," he said. "My dad always told us that the world was at our hands and he wanted us to see it."
This advice was given to Rodriguez when he was only five-years-old and his father would take him to the airport, before Transportation Security Administration (TSA) and 911 travel restrictions, to see people board the airplanes and watch them take off.
"This is one of my fondest childhood memories and has shaped me into who I am today," said Rodriguez. "I'm onto new adventures and I hope that I can represent TSTC and my program well, and make my parents proud of who I have become. Next stop: Germany."
Aircraft Airframe Technology is also offered at TSTC's Abilene and Waco campuses.
For more information, visit tstc.edu.