(HARLINGEN, Texas) – Texas State Technical College Automotive Technology student Hugo Villanueva never thought college would be in his future, much less a cooperative (co-op) education learning experience with American Electric Power (AEP).
The San Benito native who expects to earn his certificate in Automotive Technology in Spring 2020 is working 20 hours per week at AEP's San Benito location as a co-op fleet technician conducting oil changes, automotive diagnosis and troubleshooting, hydraulic repair, among other preventative maintenance.
Through this educational experience, Villanueva is supervised, evaluated and paid by the employer, and receives course credit for his work.
"This has been an amazing experience and opportunity for me," said the 28-year-old. "I'm sure this is going to look great on my resume and give me an advantage when I begin applying for jobs soon."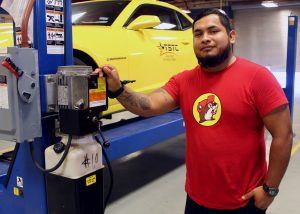 The co-op position is only for the Fall 2019 semester, but Villanueva said although he's approaching his job hunt with an open mind, he hopes to gain permanent employment with AEP in the near future.
"This is my chance to make a great first impression," he said. "My foot is in the door and I am working hard and honing my skills and passion for the field. I want them to see what I'm made of."
AEP lead technician and Villanueva's director supervisor Mario Tovar said it was Villanueva's military experience – he served five years as a U.S. Marine – mechanic experience, and knowledge of the field that left an impression and eventually got him hired for the co-op position.
"Villanueva already shows a great deal of knowledge in the field. He's well versed," said Tovar. "He's a hustler, self-starter and I never have to worry about him getting his work done. From what I see, he's going to go a long way in the industry and be very successful."
Tovar also mentioned that since the inception of the co-op partnership between TSTC and AEP nearly six years ago, the company has been impressed with the participating students and their skills.
"We've had an excellent experience working with these TSTC students who enter the co-op program," said Tovar. "They are ready to work and knowledgeable in the field, and this is a great way to help them gain the experience they need. It really is a win-win all around and we hope to continue this program for years to come."
As for Villanueva, he said it was his wife who convinced and encouraged him to return to school, and he's glad she did.
"I've received opportunities I could have never imagined and it's all because I came to TSTC," he said. "Because what I am doing is to give my family a better future so we can continue moving forward."
Tovar said he is thankful that all of his instructors take an active approach in their students' learning and job placement because it makes all the difference.
"This isn't just a hobby for me or a way to stay busy, this is my livelihood and a way to support my family," said Tovar. "And I am excited that I'll be able to do that while doing something I've always had a passion for and that TSTC is helping me get there."
Automotive Technology is also offered at TSTC's Sweetwater and Waco campuses.
For more information, visit https://tstc.edu/programs/AutomotiveTechnology.