(HARLINGEN, Texas) – Graduates from Business Management Technology at Texas State Technical College can work in a variety of industries, some even becoming entrepreneurs or business owners.
TSTC Business Management Technology lead instructor Edna Claus said that in order to prepare the program's students for successful careers, faculty focus on hands-on training that will allow for quick learning and well-rounded graduates.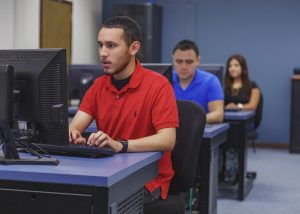 "Our program is a great place to gain the experience you need to learn the ins and outs of a business environment," said Claus. "And we do whatever possible to help our students and graduates succeed."
Claus added that Business Management Technology graduates are always in demand regionally and statewide, and job opportunities are virtually limitless. The program currently boasts a 95% job placement rate and is also offered 100% online.
Claus went on to give an in-depth look into the program.
What is the length of the program?
Business Management Technology offers two pathways. A student can obtain either a Certificate 2 in one year or an Associate of Applied Science degree in 1 1/2 years.
What can students expect when they graduate?
In addition to earning a certificate or associate degree, students also have the option of getting a Microsoft Office Specialist certification and a QuickBooks certification.
What skills do students learn in Business Management Technology?
Students in the program learn advanced Microsoft Office skills in areas such as Excel, Access, Word and PowerPoint; management skills in marketing, human resources and communication; accounting principles and payroll; and business operations and business-plan writing.
What types of technologies are used to learn these skills?
Business Management Technology students have access to five fully-equipped labs complete with industry-standard software for training. Students are also required to create a LinkedIn account complete with a professional headshot and resume that will help with the job-placement process.
How do these skills prepare a student for the workforce?
By training with industry-standard software, students will be familiar with what they encounter in the workforce and will have the skills necessary to successfully complete work-related tasks, which will open doors of opportunities and growth.
What types of positions can a graduate from this program obtain?
Graduates from this program can work as bookkeeping, accounting and auditing clerks; billing and posting clerks; payroll and timekeeping clerks; secretaries and administrative assistants; and entrepreneurs.
They can find employment in a number of places, such as schools, restaurants, retail and food stores, and government agencies.