(HARLINGEN, Texas) – Cooking and baking are only a couple of the skills students learn in Culinary Arts at Texas State Technical College.
Emma Creps, TSTC Culinary Arts lead instructor, said with an industry that is growing, graduates from the program can find opportunities to begin their careers.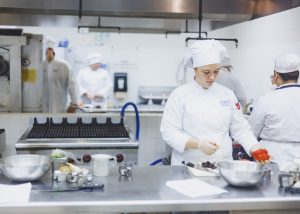 "Many of our graduates are placed in leadership positions within the food industry immediately after graduating," said Creps. "And a lot of that has to do with the type of training they receive in our program. From technical to soft skills, we focus on making sure they are job-ready."
Creps went on to explain what a TSTC Culinary Arts student can expect while in the program.
What is the length of the program?
Culinary Arts offers two pathways. A student can earn either a certificate in three semesters or one year, or an associate degree in five semesters or two years.
What can students expect when they graduate?
Before even graduating from Culinary Arts, program faculty and staff host a Culinary Arts job fair to expose students to different employment opportunities, resume building, and interview skills workshops to set them up toward a path of good-paying careers. A mentorship program that students and alumni can take advantage of if they have any questions or need advice is also offered.
What skills do students learn in Culinary Arts?
Students learn a multitude of skills that include cooking and baking processes and techniques, knife skills and food preparation, but program faculty also focus on teaching soft skills such as time management, organization, leadership and communication, which are all essential when working in the food industry.
What types of technologies are used to learn these skills?
To learn these skills, students use an industrial-standard kitchen fully equipped with the tools they need to practice their skills. They also have access to a point-of-sale system, similar to what they will find in the real world, and a video tutorial they can reference.
Students also have the opportunity of participating in cooking and baking competitions hosted by the program, and they also attend community events where they can meet with clients, create a menu and follow through with executing the event.
How do these skills prepare a student for the workforce?
By learning these skills, they not only master the technical kitchen skills, but they also learn how to lead and interact with people, which affects a graduate's success. They can be masters in the kitchen, but it's the team you work with and your customers that help make a graduate successful. So everything they learn helps them become well-rounded and effective leaders.
What types of positions can a graduate from this program obtain?
Culinary Arts graduates can work as sous chefs, restaurant/kitchen managers, instructors, personal chefs and institutional chefs in places such as hospitals, nursing homes and detention centers. They can even open their own restaurants or catering businesses.
Local restaurants or organizations that have hired TSTC Culinary Arts graduates include the Harlingen Country Club, Valley Baptist Medical Center, Colletti's Italian Restaurant, Stefano's Brooklyn Pizza, Healthcare Services Group, and Healthcare Support Services.