By Amanda Sotelo
(HARLINGEN, Texas) – Fifteen inches of water took it all from Texas State Technical College student Nelda Chavez and her family.
"The only way to describe the situation is devastating and overwhelming," said the 52-year-old. "The image and smell of the mess and debris still haunts me."
The family returned to their home barely a week ago; the massive amount of rain and flooding that devastated their home occurred in June.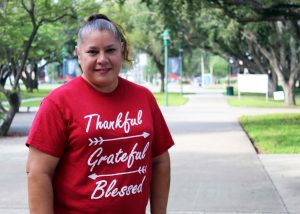 Chavez's family has gone from living in a hotel to a compact-size travel trailer while working nonstop to repair their home and replace ruined appliances and furniture.
All of the cleanup, as well as the majority of the rebuilding, was completed by Chavez and her family.
"It's been quite a process, and a lot of money we do not have," said Chavez. "We were blessed to have been helped by the American Red Cross, the Federal Emergency Management Agency and TSTC."
The TSTC Foundation's Snyder Helping Hands fund awarded Chavez $1,000 to put toward the rebuilding and restoration of her home.
The fund was created to assist TSTC students during times of need — to help get them back on their feet and focused on their education toward a great-paying career.
"The money we received was our first form of assistance after the flood, and that allowed us to purchase all of the cleaning supplies we needed to dry up our home and for food," she said. "Without this money, there is no way we could have done it."
Chavez added that receiving the money was their first step in recovery. Because she is a full-time pre-nursing student, she and her family rely heavily on her husband's income.
"I'm so grateful for the help TSTC provided me and my family," she said. "The money went a long way, and (TSTC was) my light of hope during this difficult situation."
The flood could have been a devastating setback for Chavez's education had she not received help from TSTC.
"This is the kind of event that makes someone reflect, dig deep and question what they're doing," said Chavez. "I wanted to quit and work to help my husband, but this money saved me from that. And here I am, still going strong. TSTC needs to know how much that means to me."
Chavez said that after receiving her money, she did extensive research into other services and resources TSTC offers because she was impressed with the amount of help it provides its students.
"I'm sure I'm not the only one who TSTC has helped and allowed to continue working toward their dream," she said. "Overall, this has taught me not to take anything for granted and that there is always hope."
To learn more about helping students like Chavez, visit tstcfoundation.com.