(HARLINGEN, Texas) – Isise Flores was working on homework one late night in June when he got hungry, went to the kitchen and stepped in a puddle of water.
For the 20-year-old Texas State Technical College student this puddle turned into knee-deep water that flooded an entire part of his family's home, leaving a humble and hard-working group of people with destruction and loss.
"We work hard and are able to support our lives, but this was an event and expense that came out of nowhere," said Flores. "We've been through storms, even hurricanes, and nothing like this has ever happened."
It was an unexpected deluge of rain that brought flooding to many Cameron County residents, like Flores, that night in June.
Flores, who lives with his parents and younger brother and sister on the west side of Harlingen, said they all immediately began working together to move household items they could salvage to higher ground while the water continued to rise.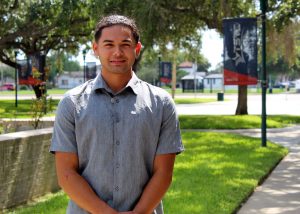 "That night we lost almost everything. Everything we worked so hard for," said the Harlingen resident. "Furniture, appliances, you name it, it was gone."
Throughout his trials, Flores continued attending class, and it was one of his instructors that sent him an email that brought relief to him and his family.
At TSTC, students who are going through a difficult time financially and need assistance are eligible to receive money from The TSTC Foundation's Helping Hands fund. And with nothing to lose, Flores applied and his prayers were answered.
Flores was awarded $1,000 to help with whatever his family needed. He said he divided it responsibly and was able to purchase insulation and sheetrock and still put money toward the purchase of new appliances such as a stove and refrigerator.
"This money was a huge help financially, but it also helped lift our spirits," said Flores. "I thank the Lord and TSTC for this blessing. This really shows just how much TSTC cares for its students. Big help like this from a school is rare."
Flores, who already holds an associate degree from TSTC Architectural Design and Engineering Graphics and is now pursuing his second degree in Engineering, said he is doing his family's house restoration himself, appliances have been purchased and they were just recently able to get new furniture.
"All of this was possible because of yes, hard work, but because of TSTC," he said. "I want to thank them for giving students like me this type of opportunity. They helped me get back on my feet."
With this money Flores said he was able to stay focused on school and his assignments so he could continue working toward his dream of becoming a civil engineer or architect, a profession he has known was a perfect match since he was a child.
"I used to build club houses with hammers and nails or whatever I could get my hands on as a kid," said Flores. "So being able to pursue a career in the field is exciting and TSTC has laid the foundation I need for a successful career."
Flores said he will forever be grateful to TSTC for taking care of him and his family during their time of need.
"TSTC has not only opened doors of career opportunities, but also done so much more by helping my family," he said. "I never expected that a college I attended would do this for their students, but TSTC has gone above and beyond their call of duty."
For more information on how you can help more students, visit tstc.edu/tstcfoundation.