(HARLINGEN) – Ten-year-old Cassidy Martinez watched the effects of erosion with amazement during the "Explore Science: Earth and Space" event recently hosted at Texas State Technical College.
The event, organized by TSTC's Challenger Learning Center, was popular among families in the community for children in kindergarten to sixth grade, with a turnout of more than 100 people.
Students like Martinez, a fifth grader from Ed Downs Elementary School in San Benito, were exposed to different hands-on activities such as erosion, sublimation bubbles, reaction rockets, rover building, three-dimensional (3D) pens and kinetic energy.
TSTC's planetarium and arts and crafts was also integrated into the experience.
"The erosion station was my favorite part. Learning how things work is what I love," said Martinez. "Science is my favorite subject in school, so this has been the best field trip. I hope to be a doctor someday so I want to learn all the science I can."
Ashley Contreras, TSTC Center for Math and Science Education project coordinator, said these types of events are important to increase interest and enthusiasm in science, technology, engineering and mathematics (STEM) education and careers.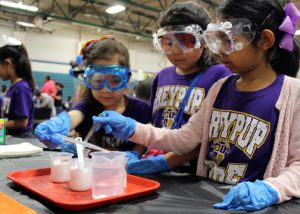 "There is a huge push for STEM right now," said Contreras. "And we're working with our local schools and families to expose children to STEM as early as possible."
Contreras said she loves to see the students get creative with each activity and seeing their eyes light up. .
"It's great to see these children excited over math and science and discovering how it applies to everything around us," she said. "Our goal is to keep them engaged and interested as they get older, especially the girls."
Contreras said STEM education and careers tend to be male-dominated, and hosting events like "Explore Science" can help encourage girls and allow them to realize that there is support and guidance for females in the field.
"There is a place for women in the STEM fields and I hope young girls realize this early on," she said. "They can find that support to pursue STEM careers right here at TSTC with our technical programs and two-year degrees. They don't have to go far from home."
"Explore Science: Earth and Space" is a result of a signed NASA Cooperative Agreement that was introduced to the TSTC Challenger Learning Center by the National Challenger Center.
Through this agreement, TSTC's center has received upgraded hardware and software to add new missions to its Challenger mission line up.
The event was also made possible through a grant awarded to the center from the National Informal STEM Education (NISE) Network, a community comprised of informal educators and scientists dedicated to supporting learning about STEM across the United States, provided all of the supplies necessary for the hands-on activities.
"Everything we do is a team effort," said Contreras. "Nothing would be possible without the support of these organizations, my team and the support we receive from the TSTC administration."
TSTC's Challenger Learning Center expects to roll out its newest Mars mission in Fall 2019 and Contreras said every mission and the services offered at the center align with the Texas Essential Knowledge and Skills, state curriculum standards set forth for public schools K-12.
"We look forward to hosting more community events in the future," said Contreras. "And we're excited for our new missions and to continue enriching STEM learning and making it fun for every student."
For more information on the Challenger Learning Center and the services offered, call 956-364-4517.