(HARLINGEN, Texas) – Texas State Technical College in Harlingen will host its first of four registration rallies for the summer on Wednesday, June 12.
The event, to be held at the Engineering Technology Center on Airport Drive, from 10 a.m. to 6 p.m. will focus on programs: Architectural Design & Engineering Graphics, Biomedical Equipment Technology, Building Construction Technology, Industrial Systems, Mechatronics Technology, Precision Machining Technology, Wind Energy Technology and Heating, Ventilation, and Air Conditioning (HVAC).
This is the first time the campus has tailored its registration rallies to promote specific programs. This will help emphasize the application and registration processes of certain departments and give prospective students an in-depth look into each program.
"Choosing a career is a big choice and we want students to have the opportunity to take a close look at all of their options," said TSTC assistant director of Enrollment Services Ricardo Trevino.
With this new approach, TSTC faculty and students will showcase their programs with presentations and hands-on activities for those in attendance.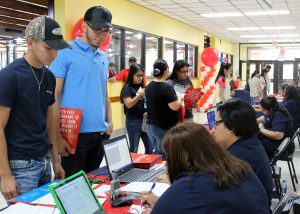 "Networking is what these registration rallies is all about," said Trevino. "We want these students to make informed decisions and to be familiar with their instructors, the campus and the resources we offer before even registering. This will make for an easier transition."
Enrollment services representatives will also be on hand to assist prospective students with the TSTC application and registration processes, advisement and testing.
Representatives from Student Life, Career Services, Housing and the Veterans Center will also be at the event to answer questions.
Trevino added that financial aid and scholarships are available for those who quality; and in fact, there will be a drawing for a $250 TSTC scholarship for those who apply and register for classes at the event.
Free hot dogs, chips and popcorn will also be served.
"Not only is this a great event for prospective students to get to know us, but it's a great opportunity for us to get to know them," said Trevino. "That's important because then we're able to match them with the resources they need. We always have our students' end goals in mind."
Trevino said he hopes these registration rallies not only bring in students to register, but also give them a better understanding of the types of opportunities a technical education and two-year degree can provide.
The next registration rallies at TSTC's Harlingen campus will be hosted on July 11, July 16 and August 6 and will focus on other programs such as Aircraft Airframe and Powerplant, Computer Science, Computer Networking & Security, Culinary Arts, Dental Hygiene, Emergency Medical Services and Nursing.
Registration Rallies are being held across TSTC's 10 campuses statewide.